Tracey Winbush first black to serve on Mahoning elections board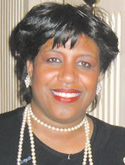 Photo
YOUNGSTOWN
The secretary of state appointed Tracey Winbush to complete an unexpired term on the Mahoning County Board of Elections.
She is the first black to serve on the county's elections board, and is the first woman on it in 11 years.
Winbush, the Republican state central committeewoman representing Mahoning and Columbiana counties, will be sworn in as a member Friday and attend her first board of elections meeting Monday.
Winbush, of Youngstown, is replacing Clarence R. Smith Jr. of Boardman, who resigned last month after 15 years on the four-member board, consisting of two Republicans and two Democrats. The unexpired term ends Feb. 28, 2014.
"I'm so excited to serve the people in this capacity," Winbush said. "I've always wanted this position. It's important to oversee the voting process and make decisions in the best inter- est of voters. I don't get excited about too much, but I'm really looking forward to this."
The county Republican Party's executive committee unanimously recommended Winbush for the position at a Jan. 19 meeting. Secretary of State Jon Husted announced the appointment Tuesday.
Winbush is the county Republican Party treasurer and a radio talk-show host on 600-AM WSOM.
"I think she'll be a nice addition to the board," said David Betras, county Democratic Party chairman and the elections board vice chairman. "I look forward to working with her."
The job pays about $15,000 annually with full health-care benefits.