YSU men face rugged schedule
---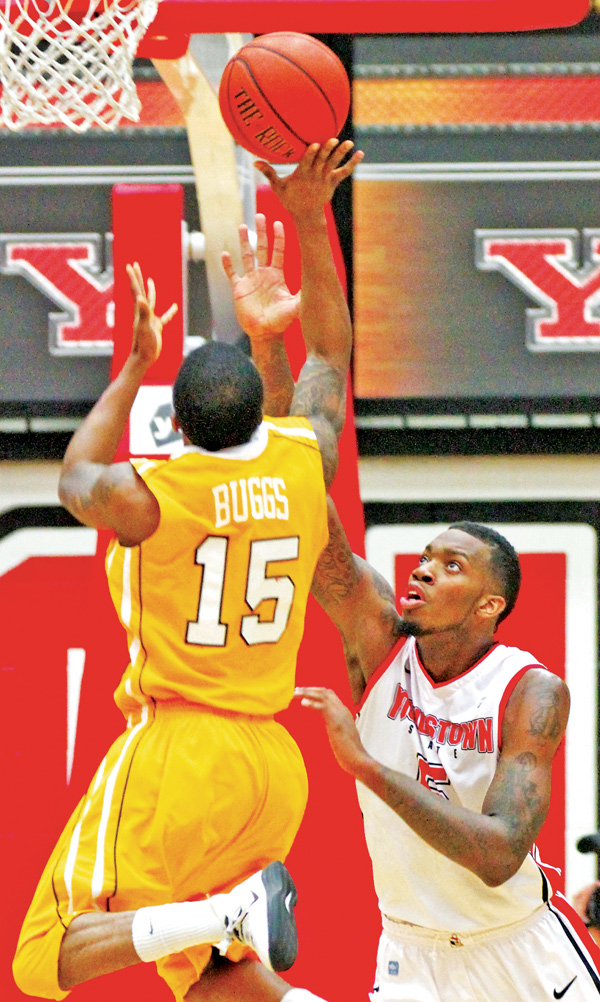 Photo
Youngstown State's Kamren Belin, right, blocks a shot by Valparaiso's Erik Buggs (15) during a recent game at Beeghly Center.
Staff report
YOUNGSTOWN
Faced with the daunting task of playing three Horizon League games over the next six days, Youngstown State senior Kamren Belin thinks he's figured out the best way to survive.
"All I think about is the game we play," Belin said. "Whatever happens next I'll deal with it."
Not a bad idea considering everything else is working for Belin right now.
The junior forward was named the Horizon League's newcomer of the week for the second straight week after averaging 17.5 points and eight rebounds per game against Valparaiso and Detroit. He's averaging 18 points and 5.4 rebounds over the last five games.
"It's great, but at the same time, it's individual," Belin said of the newcomer honors. "I can't do it without my team. I owe most of it to them and the coaching staff."
Youngstown State (13-9, 5-4) has won four of five, including a 73-59 victory over Cleveland State on Jan. 26 at Beeghly Center in which Belin scored a career-high 24 points.
The Penguins travel to the Wolstein Center tonight for a rematch against the Vikings.
"You've got to respect them," Penguins coach Jerry Slocum said. "They're coming off a great win [over UIC] and they're especially good at their place.
"We know that we have our hands full. We know a 60-70 percent effort game isn't good enough. You better be playing 40 minutes on all cylinders."
YSU's starters scored all but two points in their previous meeting with Cleveland State but Slocum has gotten a boost from his bench in each of the last two games. Forward Shawn Amiker, a former starter, had nine points in 14 minutes in a win over Valparaiso last week and freshman Ryan Weber scored eight points in 24 minutes during last week's loss to Detroit.
"Ryan's played really good in practice lately and has gained my confidence to be able to play in games," Slocum said. "I would project his minutes to go up a little bit."
That's good news for YSU, which is home to Loyola on Thursday, then hosts UIC on Sunday. The Penguins are tied with Wright State for fourth in the conference standings — Valparaiso is first with a 7-2 mark — and know how much a couple wins this week, or a couple losses, can affect the rest of their season.
"This is as busy-slash-tough a week as we have on our schedule," Slocum said.
Belin agreed, saying it's more of a mental challenge than physical because of all the scouting reports.
"It [multiple games] wears on you a little bit but once it's game time, the adrenaline kicks in and everything takes care of itself," Belin said.