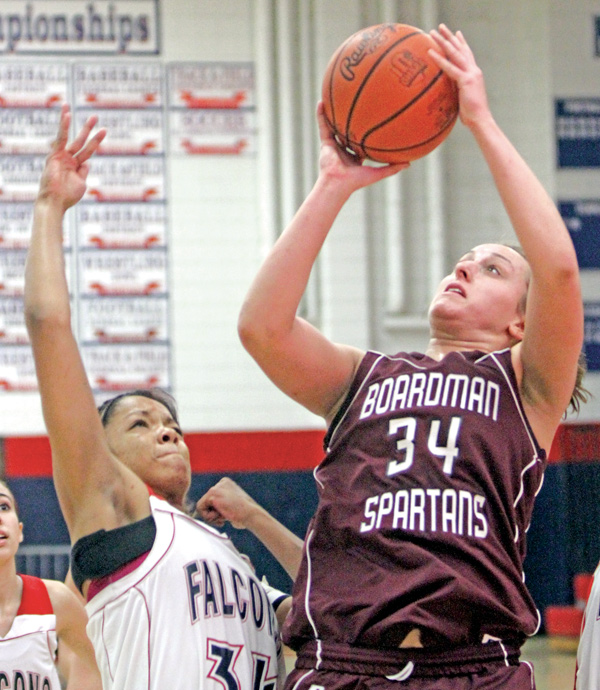 ---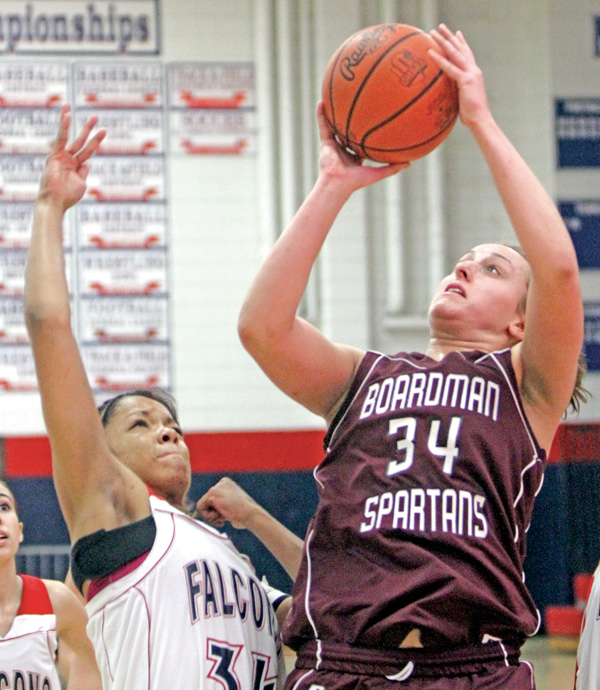 Photo
Boardman's Emily Gibbs (34) shoots while Fitch's Briana Edwards (34) defends during Monday's game in Austintown. The Falcons won, 44-43.
By Ryan Buck
AUSTINTOWN
It's almost a shame that the heated rivalry between Austintown Fitch and Boardman can only be staged once during regular-season play for girls basketball.
Separated by different conferences, Fitch of the All-American Conference and Boardman of the Federal League reminded everyone of their clashes of days gone by.
The Falcons had one more play in them than their rival Spartans Monday as Fitch claimed victory in a 44-43 thriller.
Fortunately, it can be seen as a prelude to the anticipated matchup in the just-announced Division I tournament on Feb. 16.
Trailing by one point with four seconds remaining in regulation, Boardman forward Emily Gibbs' second of two free throws rolled off the front iron.
Gibbs' teammate Kelly Tomcsanyi emerged with the loose ball rebound after a mad scramble but Fitch standout Megan Sefcik deflected Tomcsanyi's fade-away jumper from the left baseline to preserve the victory.
"Free throws have been our nemesis all year long," Boardman coach Jeff Hammerton said.
After 17 years of Spartans' supremacy, Fitch coach Stacie Chepin's squad has two straight wins over the Spartans.
"They've been a premier program since I can remember, when I was in high school in the early 1990s," said Chepin, a Campbell Memorial graduate, now in her third year at Fitch. "It was a gutty performance by all."
Fitch guard Brenda Thompson's jumper with 1:21 left in the third quarter set the stage for a wild final nine minutes.
Benefitting from a Fitch three-second violation with 20 seconds left in the third quarter, Jenna Kuczek's overhand inbounds heave found Brianna Fonderlin perfectly in stride for a fast-break lay-up.
Thompson answered right back with a bucket at the other end before Spartan guard Megan Volosin drilled a three-pointer from the left wing at the buzzer to put the Spartans back on top 36-35.
"The girls executed everything I drew up," Hammerton said.
Neither the pace nor intensity slowed in the fourth quarter.
Three more lead changes led to Gibbs pulling down her own miss, then willing the put-back over a double team to put Boardman ahead 40-39 with four minutes remaining.
"She's our lone senior," Hammerton said of Gibbs, who led Boardman with 12 points. "She's one of the players that we look to a lot. We felt that if we got the ball to her on the block that she could do some damage."
Cassie Custer and Tomcsanyi traded baskets for Fitch and Boardman, respectively, on the next two possessions.
Falcons sharpshooter Sarah Melfi, who had stung the Spartans for 14 points already, had one more masterstroke left in her.
The 5-foot-10 junior drifted wide open at the top of the key. With the Spartans defense collapsing on Sefcik inside, Melfi drilled the jumper to put Fitch ahead 43-42 with 3:42 left.
Pre-game festivities honored Sefcik's remarkable achievement of reaching 1,000 points as only a junior in last week's win over Howland. As the Spartans defenders hounded the Falcons' star, Melfi took advantage.
"I'm a lot more comfortable lately," said Melfi, who posted a game-high 16 points. "It's because of how much teams have been double-teaming Megan. It does make me more available and my coaches keep telling me to take those shots, so I do."