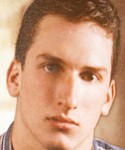 Mother: My son was abused by Brother Baker
Published: 2/5/13 @ 12:05
By Ed Runyan
AUSTINTOWN
A Poland woman whose son attended Warren John F. Kennedy High School from 1990 to 1994, and killed himself in 2003 in Arizona, believes his death at 26 might have been the result of sexual abuse by Brother Stephen Baker.
Barbara Aponte says her son, Luke Bradesku, never told her he had been sexually abused by Brother Baker, but Bradesku once called Baker a "pervert" and mentioned in a fictional writing that athletes avoided receiving treatment from Baker.
Baker, a Franciscan friar who served as sports trainer, baseball coach and religion teacher at JFK from 1986 to 1991, killed himself Jan. 26 after allegations surfaced that he had sexually assaulted 11 male JFK students.
Meanwhile, Bishop George V. Murry of the Diocese of Youngstown has sent a letter to approximately 1,200 adults who were students at JFK from January to June 1978 and August 1985 to January 1992, asking them to come forward if they have knowledge of abuse by Baker or were abused themselves.
Aponte received one of the letters, addressed to her son, she said.
"Writing to these former students is something we must do in the interests of achieving full justice," Bishop Murry said. "Sexual abuse of minors is a terrible thing. It burdens us all with disappointment, sadness and deep hurt. For its victims, it can be devastating."
Bishop Murry also has written to 11 victims who recently came forward, apologizing for Baker's actions and offering to meet with them individually. "The Diocese of Youngstown is doing all we can to ensure legal justice and personal peace for anyone who suffered abuse at the hands of Church personnel," the bishop said.
The allegations, which were backed up by an out-of-court settlement, have caused other former students from JFK, Bishop McCort High School in Johnstown, Pa., and Orchard Lake, Mich., to come forward to attorneys and allege similar incidents.
Two purported victims described Baker fondling their genitals and digitally penetrating them inside a small, closed training room at the school while giving massages as therapy for sports injuries.
One of the men, Mike Munno of Cortland, attended a Monday news conference with Aponte at the Fairfield Inn on Route 46.
Aponte and her son, who lived in Niles when Bradesku attended JFK, said the stories that two purported victims told at a Jan. 16 news conference made it "clear as day" that her son suffered sexual abuse from Brother Baker.
Aponte said Bradesku worked at JFK for a couple of months during summer 1990 before his freshman year and during his four years at JFK to offset his tuition costs. He was a JFK football player, suffered injuries playing football and told his mom on multiple occasions he was staying after school to "grade papers for Brother Stephen."
She remembers a time in October 2001 when she went to visit in California, where her son was serving in the Marine Corps, and mentioning Baker to him — and how it was surprising that Baker knew a lot of dirty lyrics to an AC/DC song.
"He said, 'Brother Baker was a freaking pervert,' and he looked angry," Aponte said, adding that this was "about the only time" her son spoke about Baker.
But once, in a fictional story her son wrote about someone getting hurt on the football field, he wrote that the athlete refused to go into Brother Baker's training room for "another of those weird sessions."
She said the story included the athlete's hiding from Brother Baker until his ride arrived. Aponte said she scolded her son for writing something like that because "If someone read it, you could get Brother Baker into trouble."
Aponte said her son attempted suicide in Florida during his freshman year at JFK after taking off in the family car for two weeks.
She said that change in outlook didn't make sense because he had been very excited about JFK in the months leading up to the start of the 1990-91 school year.
"How does a kid go from ... he gets to Kennedy and everything's great, and within months he's trying to kill himself — and all he'll say is, 'It's school'?"
She said he received treatment after the suicide attempt but didn't say much about the root cause of his problems.
Munno, who returned to Kennedy as an assistant football coach at Kennedy starting with the 1991-92 school year, said he remembered Bradesku as "a good kid."
Atty. Mitchell Garabedian of Boston, the attorney who worked out the settlement for the 11 initial alleged victims, participated in the news conference by speaker phone, saying anyone who knows whether Baker abused Bradesku should contact him or Robert Hoatson of Road to Recovery, Inc., Livingston, N.J., who also attended the Monday conference.
Don't Miss a Story
Sign up for our newsletter to receive daily news directly in your inbox.