Liberty mascots dance for commuters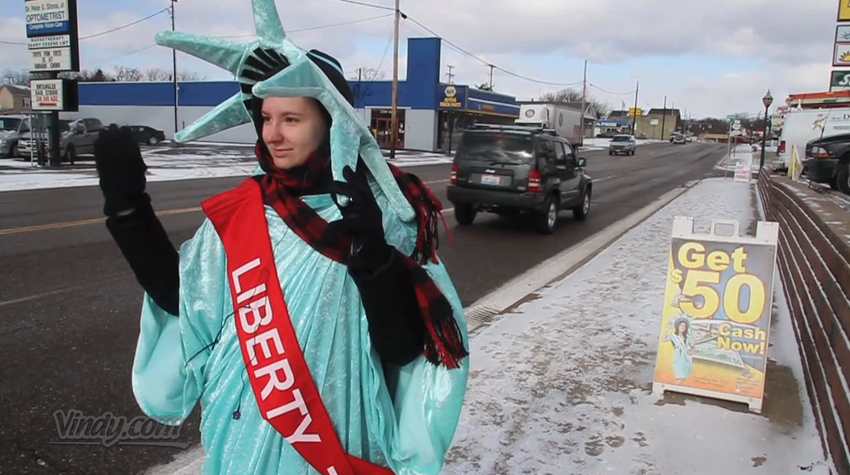 ---
Dressed As The Statue Of Liberty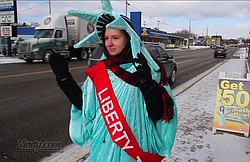 Video
Dressed as The Statue Of Liberty a local woman hits the street with a special goal in mind.

Photo
Mary Jones, of McDonald, dons a Statue of Liberty costume outside of Liberty Tax Service in Girard. Jones is one of several "guerilla marketers" the business uses to advertise. The human statues stand outside most of the Liberty offices in the U.S.
By Danny Restivo
BOARDMAN
In the depths of winter, few people are willing to stand outside while dancing and waving in a funny looking costume.
Even fewer are willing to call it an occupation.
For a select group of Liberty Tax Service employees, it's a job that elicits an array of responses from people driving by.
"I get everything from a beep and a wave to the finger," said Otto McCabe of Struthers.
McCabe is recognizable as the Statue of Liberty who waves to drivers outside the Liberty Tax Service center on U.S. Route 224 in Boardman. He is among a group of Liberty Tax Service mascots who evoke looks, laughs and acts of charity from commuters.
"I kind of feel bad for them," said Paul Patterson, of Howland. "It's pretty cold out there."
Patterson stopped into the Liberty Tax Service location in Girard on Friday and completed his state and federal income-tax returns. Meanwhile, Robert Mahan waved and danced in 14- degree weather outside the store's location on North State Street.
"A lot of people stop and ask if I'm cold, but I'm always prepared," he said. "I have four layers on today."
Mahan said he is in his fourth year of "marketing" for Liberty Tax service. He said he comes inside the store twice every hour for 10 to 15 minutes to warm up before heading back outside. Mahan said he's even had someone bring him hot coffee. He enjoys evoking responses from staring drivers by waving and dancing. He even began using the "Gangnam Style" dance.
The advertisement model is visible at 4,500 Liberty Tax preparation sites nationwide. John Hewitt, Liberty Tax Service founder, began using the "guerilla marketing" technique shortly after starting the business in Virginia Beach, Va. in 1995.
Vince Flask, general manager and part-owner of Liberty Tax Center in Trumbull county, said the company doesn't spend any money on radio or television advertising. He said roughly 60 percent of its customers are due to the marketers.
"We give people a questionnaire when they come in, and most respond by saying they came in because of the mascots," he said.
William Kofalt, of Enon Valley, Pa, is a marketer at the tax preparation offices in Boardman. He said he listens to a small radio with earphones so he can dance to music while outside. He said he doesn't care if people laugh or stare.
"I enjoy being the mascot and I enjoy the people," said Kofalt,
Tim Gilmore, general manager and co-owner of Liberty Tax Service, said there are 15 to 20 mascots at three locations in the county. He didn't disclose how much his employees got paid, but he said it was more than minimum wage. He said his business is at the peak of the tax return season, with more customers filing returns now than in 2012.
It's a fact that reminds Mahan of his importance to the company, no matter what people say about his dress. "People can say whatever, but the fact is, I still look better than most of them," he said.