Patricia Prelock's inspiration was her brother, who has Downs syndrome.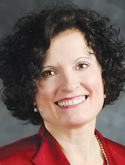 ---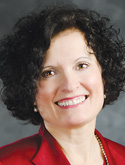 Photo
POLAND
Patricia A. Prelock, a former Poland resident and Cardinal Mooney High School graduate, has risen to the top of the profession she was inspired to enter by her brother, James Cipriano, who has Down syndrome.
The daughter of Mary Ann Cipriano of Poland and the late Chris Cipriano, Prelock, who has her doctorate, is the 2013 president of the American Speech-Language-Hearing Association.
She is dean of the College of Nursing and Health Sciences and professor of communication sciences and disorders and of pediatrics in the College of Medicine at the University of Vermont.
A board-recognized specialist in child language, Prelock, with a special interest in autism, coordinates parent-training programs for caregivers and providers who serve children with autism-spectrum disorders.
Since she came to the university in 1994, she has been awarded more than $9 million in state and federal funds to support her work.
Prelock, 58, says she will use her one-year term as ASHA president to ensure that the organization continues to be a significant player in the new health-care reform legislation so as to bring more services to individuals with communication disabilities.
After graduating from Cardinal Mooney High School in 1972, she received bachelor's and master's degrees from Kent State University in speech pathology and audiology and in speech pathology in 1976 and 1977, respectively.
In 1983, she earned a doctorate in speech and language pathology from the University of Pittsburgh. She did her student teaching in the Youngstown City Schools and taught English to foreign physicians at Forum Health Northside Medical Center.
"Patricia was very involved in Special Olympics with James when he was growing up and still calls him every morning and night. Those calls from his sister are the most important things in his life," Mrs. Cipriano said.
One of the books Prelock wrote, "Caring For Children With Neurodevelopmental Disabilities And Their Families: An Innovative Approach To Interdisciplinary Practice," has a baby picture of James on the cover.
Prelock said she first was drawn to the profession when she observed the special program James was attending as an individual with a developmental disability. He was able to communicate, but some others in the program could not.
Down syndrome is a genetic condition in which a person has 47 chromosomes instead of the usual 46, according to the U.S. National Library of Medicine.
"I saw this as a real barrier to being able to learn. I thought if I understood how to facilitate the ability of a child to understand what someone else has said, and how to communicate the messages they wanted to share, then learning would be easier to achieve," she said.
"I wasn't sure how I was going to learn that until the superintendent of my brother's school introduced me to its speech-language pathologists. I was 14 years old at the time and never looked back. Being able to make a difference, even in a small way, to support someone's ability to communicate is a gift," she said.
"My brother, James, who has Down syndrome and was diagnosed with Alzheimer's [disease] two years ago, is clearly an inspiration to me," Prelock said. "I have admired his endearing manner, his ability to live in the present, and his love of family in spite of his complex path to communicating, learning and living. He has taught me a lot about not 'sweating the small stuff' and to appreciate the precious moments of life."
"Everything Patricia does is because she wants to help autistic children," her mother said. "She is an exceptional daughter and sister who loves what she does. I am very, very proud of her."