Permanent marker: City tattoo parlor is all for the family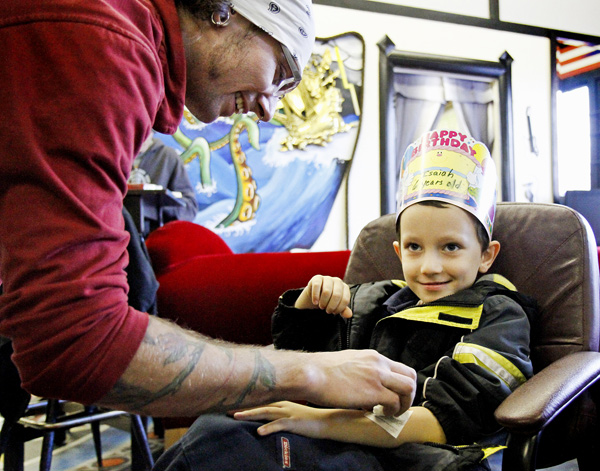 ---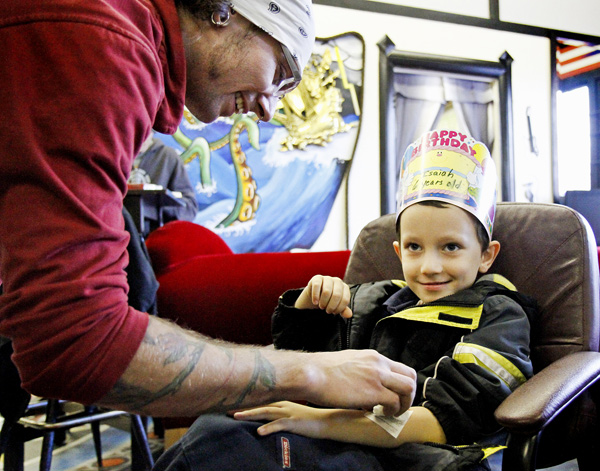 Photo
Nick West, another employee at the studio, gives 6-year-old Isaiah Howley a temporary tattoo of a skull on his birthday.
STORY AND PHOTOS
By MADELYN P. HASTINGS
YOUNGSTOWN
A child is probably the last person anyone would expect to see when you walk into a tattoo shop.
But on his sixth birthday, Isaiah Howley and his mother made a visit to Bitter Hearts Tattoo Studio, 2209 Mahoning Ave. While sporting a birthday crown, Isaiah picked out a temporary tattoo of a very angry-looking skull for his forearm.
In the next room over, Ben Moody is cringing while multiple wolves are tattooed on his body which, when completed, will cover the entire length of his torso.
A few feet away, a tattoo shop employee is sketching out a design, a woman is getting her belly button pierced, a group of friends are playing a round of pool and another employee is tattooing his first client.
A moment never passes by without the buzzing of heavy music in the background. Every turn of a corner reveals an entirely new scene with a unique activity being carried out and a different story being told.
Ian Simon recently moved his tattoo business from Liberty to the city's West Side and hired an almost entirely new staff.
Even though this is a new gig for some, the group is never lacking creativity. Their bodies are covered with as much art as the walls in the shop. The group is family-friendly, and the environment is not intimidating.
It's clear why 6-year-old Isaiah wanted to visit the guys at Bitter Hearts on his birthday.