Published: Mon, February 4, 2013 @ 12:09 a.m.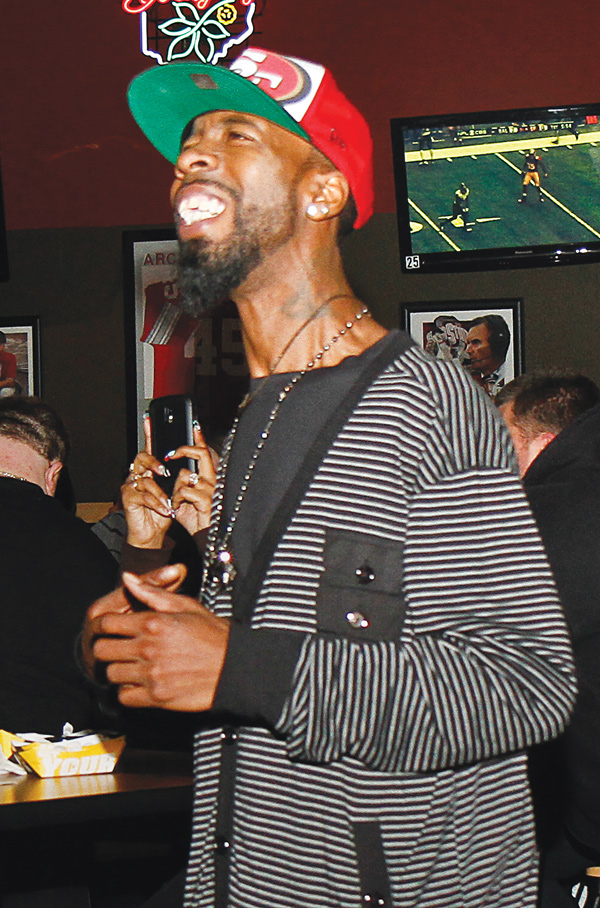 Photo
Juawan Gray, a Youngstown 49ers fan, reacts to a play while watching the game at Buffalo Wild Wings in Austintown on Sunday night. Gray showed up at the restaurant an hour early to "gear up" for the big game.
By Danny Restivo
Youngstown
While the Ravens and 49ers decided who would hoist the Lombardi Trophy in New Orleans, football fans gathered around televisions in bars and family rooms to share in an annual American tradition.
At Buffalo Wild Wings in Austintown, fans threw their support behind one of the two teams for the big game. Most in the house supported the Youngstown-owned San Francisco 49ers who lost the game.
There and elsewhere throughout the Valley, the mood of the evening paralleled the movement of the scoreboard — swinging from despair to excitement to dejection when the 49ers' come-from-behind blitz fell three points short, 34-31.
Juawan Gray of Youngstown made his allegiance evident at Buffalo Wild Wings.
"I was a 49ers fan before I was born," said Gray.
Gray said he had been at the restaurant "gearing up for the game" one hour before kickoff,
He said living in the same city as the team's owners was not a factor in his loyalty, but he believes they've made the team better.
"You have to respect what the DeBartolos and Yorks have done for the team," he said.
Gray, who donned a 49ers baseball cap, was the most animated San Francisco fan at the bar, but he wasn't alone.
Mike Jenoff, of Youngstown, said he was an avid Steelers fan. He said it was reason enough to cheer for the 49ers, but living in a town where the owners originated gave him more cause.
"I already hate the Ravens, but since the DeBartolos are from here, it gives the game a local element for me," he said.
At the Ice House Inn, located along state Route 46, friends sat at the bar while eating and drinking, but split their support. James Aulet, of Sharon Pa., sported a 49ers' jersey while his friend, Jon Steele, of Sharpsville, Pa., wore a Ravens' T-shirt.
"We're friends, but not very good ones tonight," said Steele.
Steele said he had been a Ravens fan since the team left Cleveland in 1996, while Aulet said he had been a lifelong San Francisco fan. At the other end of the bar, Carson and Sharon Taylor, a married couple from Wisconsin, also split their support.
Carson was cheering for the 49ers, while Sharon was rooting for the Ravens. The couple had been traveling through the state and decided to stop near Youngstown to watch the game.
"We're both Packers fans, but because the 49ers beat us, I have to support them," said Sharon.
Her husband disagreed
"I got to go with Baltimore," he said. "This night may end in a divorce."