Jessica Gross, Joseph Godward to wed June 8
---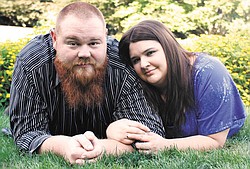 Photo
JOSEPH G. GODWARD AND JESSICA AL. GROSS
SALINEVILLE
Jeffrey and Angela Gross of Salineville and Michelle Gross of New Middletown are announcing the engagement of their daughter, Jessica Leigh Gross, and Joseph George Godward, both of Struthers.
Parents of the future groom are Thomas and Janet Godward of Poland.
The couple will exchange vows June 8 at St. Luke Church in Boardman. A reception will follow at Operating Engineers Local 66 Union Hall, also in Boardman. Invitations will be issued for both.
The bride-elect is a graduate of Walsh University and received a bachelor's degree in business management. She is a registration clerk in the emergency department of St. Elizabeth Medical Center in Youngstown.
The prospective groom is a graduate of WyoTech and is a member of the International Union of Operating Engineers Local 66. He is a journeyman and heavy- equipment operator at Lindy Paving, New Castle, Pa.