Hospice to benefit from Mardi Gras event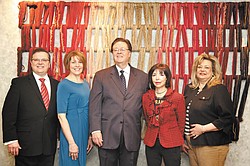 Photo
Honorary chairpersons for the Mardi Gras benefit for Hospice of the Valley set for Saturday at Mr. Anthony's in Boardman are, from left, John and Ruth Straub of the Muscle Connection and John and Denise York of the DeBartolo Corp., with Liz McGarry, director of development for Hospice of the Valley. PHOTO BY MADELYN P. HASTINGS I THE VINDICATOR
Staff report
BOARDMAN
Hospice of the Valley will host its 12th annual Mardi Gras party Saturday at Mr. Anthony's, 7440 South Ave.
Doors will open at 6:30 p.m. for a social hour with champagne and hors d'oeuvres.
The featured event will be a silent auction with vacation packages, gift items, game tickets and autographed memorabilia as well as gifts from local merchants and a bag auction.
Entertainment will be Guys Without Ties and DJ Bryan Ladd.
There also will be a 50-50 raffle, psychic readings, a Mardi Gras store and food.
Honorary chairs for the event are John and Denise York of the DeBartolo Corporation and John and Ruth Straub of the Muscle Connection.
Cost for the festivities is $75 per person. Sponsorships for tables are available.
All proceeds will benefit Hospice of the Valley's mission to provide comfort and compassionate care to those at the end of life as well as support for their families.
Businesses still have time to donate a gift or service to the auction.
For reservations or to purchase 50-50 tickets, call Liz McGarry, director of development, Hospice of the Valley at 330-788-1992 or 800-640-5180, or email Liz_McGarry@hmis.org.