Youth wrestlers advance to districts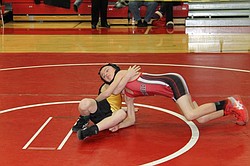 Photo
Giovanni Copploe (right) scores a takedown during his sectional bout.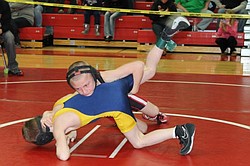 Photo
Chris Altiere (back) drives his opponent to the mat for back points during his sectional tournament match last weekend.
The Canfield Wrestling Club wrapped up the recreational wrestling season with the Medals and Sectional Tournaments. Overall, 19 wrestlers placed in the top four of their weight class and earned the right to compete this weekend.
Canfield had two teams entered in the sectional meet and were able to qualify two wrestlers in several weight classes.
Canfield's sectional champions were Alec Herman (52 pounds), Ethan Fletcher (73), Ben Cutrer (90), Carter Myers (100), Anthony D'Alesio (105), Michael O'Horo (110), Nathan Whitehead (120), and Tyler Stein (132). It is the second title for Fletcher, Whitehead, and O'Horo.
Placing second were McCoy Watkins (73), Nick Crawford (105), Payton Kostelic (110), and Jaret Davis (132). Third were Jake Kowal (70), Sean Whitehead (79), Alexander George (90), Gavin Tarashawty (132), and Dylan Hartman (150). Fourth-place finishers included Santino Marucci (100), Chad Scianna (105) and Collin Leonard (150).
Districts will be held at Fitch High School in Austintown tomorrow starting at 9 a.m. The top four in each weight will qualify for the OYWA State Meet in Akron.
In the Medals Tournament, Canfield had several champions, including Landon Biedelschies, Jimmy Delisio, Logan Miller, Nick Cavoulas, Brennen Beil, BJ Batten, David Noday, Chris Roman, Ryan Schneider and Evan Langevin.