Shepherd of Valley earns national recognition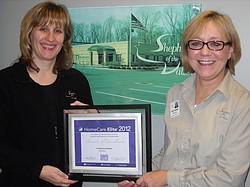 Photo
Neighbors | Submitted.Registered nurse Kris Siciliano, At Home With Shepherd Director, and Victoria Brown, Shepherd of the Valley Associate Director and CFO, display the Certificate of Recognition received by At Home With Shepherd for being among the top 500 Home Care Agencies in the United States.
Shepherd of the Valley's home health agency, At Home With Shepherd, has been named to the Top 500 of the 2012 HomeCare Elite'Ñ¢, a compilation of the top-performing home health agencies in the United States.
Now in its seventh year, the HomeCare Elite is the only performance recognition of its kind in the home health profession. It identifies the top 25 percent of agencies and further highlights the top 100 and top 500 agencies overall. Winners are ranked by an analysis of publicly available performance measures in quality outcomes, process measure implementation, patient experience (Home Health CAHPS), quality improvement, and financial performance.
"The 2012 HomeCare Elite winners demonstrate a commitment to providing patient-centered care and serving as leaders in the home health community. Their success offers data-driven proof of being well-managed and high quality care providers to hospitals, managed care organizations, ACOs, and other potential referral partners across the healthcare continuum," said Susan L. Henricks, President and COO of National Research Corporation, the parent company of OCS HomeCare.
"We congratulate At Home With Shepherd on being one of the top 500 home care agencies in the country."
Victoria Brown, associate director and CFO, credits registered nurse Kris Siciliano, Home Health director, and all of At Home With Shepherd's staff with the company's ability to rank as one of the HomeCare Elite.
"It is through Kris's leadership and the dedication of our staff that At Home With Shepherd is able to provide premier Home Health services to the residents of Mahoning, Trumbull, and Columbiana counties."
Shepherd of the Valley has four communities in Mahoning and Trumbull counties and a home health agency, At Home With Shepherd.