Poland United Methodist hosts Pinewood Derby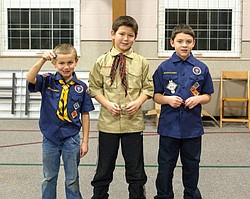 Photo
Neighbors | Submitted.Grand finalist winners at the Cub Scout Pinewood Derby Jan. 19 races were, from left, Alex LaPlante (first), Elliot Lu (second), and Joseph Carosella (third).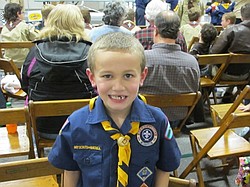 Photo
Neighbors | Natalie Scott.Alex LaPlante of the Wolves den was the grand finals winner of the Cub Scout Pinewood Derby race at Poland United Methodist Church Jan. 19.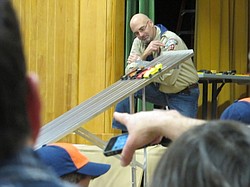 Photo
Neighbors | Natalie Scott.The cars were set on a track that would uniformly release them at the press of a lever, which was opperated by a Cub Scout leader at the Pinewood Derby races Jan. 19.
By NATALIE SCOTT
Energetic Cub Scouts gathered at Poland United Methodist Church to compete in the Pinewood Derby Jan. 19.
The races were divided by dens and four racers at a time took the track to test their cars. The number of sets in each race depended on the number of scouts in the den. Race speed and time averages were used to calculate the winner in each den, who then faced the winners in other dens for first place overall.
After all the dens had their chance to race for the winner position, the winners from each den competed for the top spot. Winners from each den were Ben Dearing (Webelo II), Kyle Varkonda (Tigers), Alex LaPlante (Wolves), Joseph Carosella (Bears), and Elliot Lu (Webelo I). The cars raced in random order for five sets until the grand finals winner was named. In the grand finals, Joseph Carosella placed third, Elliot Lu claimed second, and Alex LaPlante, with an average speed of 233.6 mph, placed first.
"I worked on my car for about two weeks," said LaPlante. "I got the idea for the car design out of book on Pinewood Derby cars, but out of all of them, my car is my absolute favorite."
LaPlante's father, John LaPLante, is a Scout Leader with the Cub Scouts and was not only proud of his son's accomplishment, but of all the boys competing.
"Pinewood Derby races have been a part of the Cub Scouts since 1953 and they establish a sense of pride and accomplishment in the Scouts," said John LaPlante. "It teaches them good sportsmanship and hard work. Every year, we have a workshop on the cars and each Scout, with a little adult help, cuts the wood and builds his own Pinewood Derby car."
More like this from vindy.com