Ohio auditor scolds CIC over poor records-keeping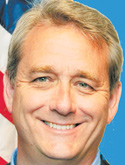 Photo
YOUNGSTOWN
The state auditor says his office cannot do an audit for a downtown property agency because of inadequate financial records.
"Poor records lead to poor service for taxpayers," Auditor Dave Yost said. "Auditable records must be provided to complete the audit and ensure accountability."
The auditor's office has repeatedly attempted to obtain financial records from the Youngstown Central Area Community Improvement Corp. (CIC) for the period between July 1, 2009, and June 30, 2011, for a regular report without any success, said Carrie Bartunek, an auditor spokeswoman.
"We try to work with entities to get records, and we give them time," she said. "We don't quickly jump to sending letters to them. It doesn't come quickly or easily."
The Canfield accounting firm of Bodine Perry LLC, on behalf of the state auditor, is attempting to conduct the CIC's audit.
"Bodine Perry set up many meetings that the CIC canceled," Bartunek said.
Thomas Humphries, president and chief executive officer of the Youngstown/Warren Regional Chamber, which runs the CIC, said the issue is a matter of timing and not an issue related to withholding records.
Scheduling meetings between Bruce Luntz, the CIC's chief financial officer, a part-time position, and the accounting firm "was an issue," Humphries said. Another issue was the person in charge of the state auditor's office retired Dec. 31, and was replaced by Joey S. Jones, who "didn't communicate with us and sent the letter out," Humphries said.
"We had an understanding with the previous person in the auditor's office that there was no sense of urgency," Humphries said.
Audits are supposed to be done annually, and with the CIC's delay the report is now encompassing two years.
In a letter to Luntz and Humphries, Jones and Yost wrote: "Failure to bring your accounts, records and reports into an auditable condition within 90 days may result in legal action."
Humphries said Luntz and Jones, whose offices are located in the same building — the George V. Voinovich Government Center on West Federal Street — will meet at 8:30 a.m. Tuesday to begin the audit.
The CIC, which owns numerous properties on West Federal Street, has been largely dormant for the past three years because most of those buildings, including the Voinovich center, have been developed.