Officials: Isolation enabled fatal abuse in Teddy's life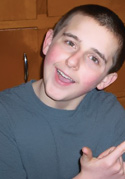 ---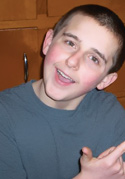 Photo
STRUTHERS
He was a nice boy, neighbors said.
Teddy Foltz, a short, slight 14-year-old who often visited at 533 Creed St., the home of his mother's ex-boyfriend, dutifully did chores there with his twin 10-year-old brothers, and sometimes, those chores would include favors for an elderly couple nearby.
Occasionally, Teddy would leave vegetables from the garden on their porch. In the winter, he would shovel their walk.
Teddy was remembered at a vigil Thursday night in front of the home he shared with his mother at 28 Creed. Many gathered to remember him.
Dave Thomas, who was there with his daughter Xena, 10, said he sometimes saw Teddy fishing at the city's Yellow Creek Park. He would talk to him and give him worms for bait.
Xena said she knew Teddy's brothers.
"It's good to see the community come together," Thomas said. "That's why we're here."
Family members also attended the vigil.
"We want to thank everybody very much for everything," said Paul Foltz, Teddy's grandfather.
Earlier Thursday, Creed Street neighbors weighed in about Teddy and his family.
If he wanted to socialize, he did not. The inhabitant of 533 Creed, Zaryl Bush, 43, and his mother, Shain Widdersheim, 32, did not encourage Widdersheim's three boys to speak to neighbors.
Bush is in Mahoning County jail, charged with murder and rape. Widdersheim, also in jail, will be arraigned today in municipal court on a felony child-endangering charge.
There was, said one of the neighbors, something strange about the makeshift, blended family — something hard to "put your finger on."
The boys would do a lot of chores, said the neighbor, who did not want her name used for publication. Every so often a large bag of beer cans would be taken out of the house, and sometimes, the boys would crush them, she said.
"They were not allowed out of the yard," she said.
Bush himself, she said, was not sociable.
Over at Widdersheim's house at 28 Creed, a neighbor there noticed similar behavior from the family, who lived there for about three years.
The kids did not play outside, she said, and there were no toys in the yard.
That neighbor, who also asked that her name not be published, said she never talked to Teddy, but she asked his brothers once if they would like to make some money by pulling weeds for her.
"They were excited about it," she said. But their mother would not let them do it.
The neighbor said that she would sometimes see "the bigger boy" out in back playing basketball. But as soon as his brothers came home, she said, "they ran in the house and kept their heads down."
At the end of the last school year, Teddy's teachers began to notice bruises, said detectives with the Struthers police.
When they asked him about the bruises, he told them his brothers caused them. They called Mahoning County Children Services. Widdersheim ended up pulling all three of her sons out of the schools Oct. 1 to home-school them.
Struthers police also were called twice to 28 Creed, said Detective Jeff Lewis.
Detective Ray Greenwood said that while he was still a uniformed officer, he went on one of those calls.
"The boy wouldn't talk," Greenwood remembered Thursday. "He wasn't crying. There were no marks. He was cutting the grass."
Teddy was virtually in a world of isolation, except for his family and Bush, when he was so badly injured he would end up dying five days later.
His mother took him to Akron Children's Hospital Mahoning Valley in Boardman on Jan. 21 with a head injury so severe he was quickly transferred to St. Elizabeth Health Center for its trauma care.
A St. Elizabeth's social worker notified children services, Lewis said, and on Jan. 23, a friend of Teddy's grandmother's called Struthers police with suspicions of abuse.
Lewis went to the hospital and a police investigation began. Teddy died Saturday.
The type of isolation that Teddy experienced, said David Arnold, interim director of children services, is a strong indicator that a child is being abused.
"This is high on the list of risk factors," Arnold said. He said the agency has the authority to interview neighbors and seek more information, even if the child denies there is any abuse. He said the agency "stays with" those cases, but he would not discuss specifics of Teddy's case for privacy reasons.
Lewis said teachers in Struthers notified the agency not only last year, but this year as well, until Teddy left school.
Hubbard teachers also called Trumbull County Children Services about Teddy three years ago, shortly after Widdersheim began seeing Bush, said Widdersheim's mother, Sara Foltz. Widdersheim lived in Hubbard at the time, and until she met Bush, she and her mother were close.
Foltz said she believes the two met in Struthers, where her daughter had friends. Not long after meeting him, she moved to Struthers as well.
"She estranged herself from the whole family," Foltz said Thursday. "I did everything with my daughter. Then, she pushed me away."
She said that at first, she would visit her daughter's house where she met Bush a few times.
"I didn't like him," she said. "He never walked out of a room without a beer in his hand. He had an attitude, like he was superior.
"She started pushing everybody away," Foltz said. "She broke my heart."
Foltz said she has not tried to see her daughter, who remained in jail until her arraignment. Widdersheim would not see her father, either, Foltz said.
Right now, Foltz said, she is "here for my grandkids." She wants custody of the twins, who are now in children services' custody and foster care.
Arnold said Foltz should contact the agency, which gives strong preference to relatives. The agency will do a home study, he said, and make a recommendation to the court.
Teddy's funeral is at noon Saturday at Lane Funeral Home in Boardman.