Mooney graduate Jed York finds spotlight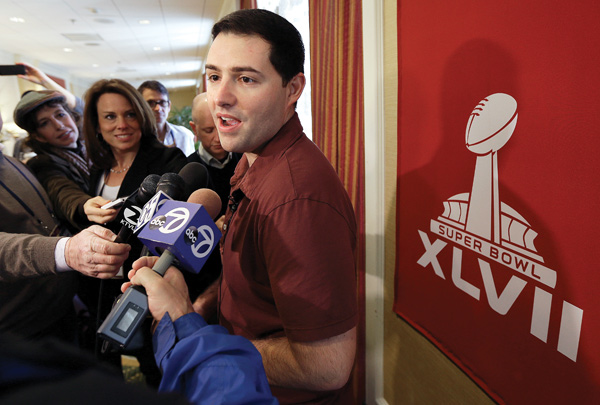 ---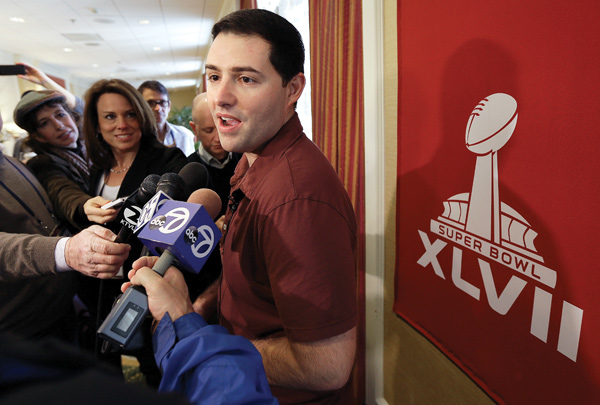 Photo
San Francisco 49ers CEO Jed York talks with reporters Thursday in New Orleans. The 49ers will play the Baltimore Ravens in Super Bowl XLVII on Sunday.
By Joe Reedy
The Cincinnati Enquirer
NEW ORLEANS
While other owners and general managers have had their own podiums during Super Bowl Media Day, San Francisco 49ers Chief Executive Officer Jed York watched head coach Jim Harbaugh and players while walking behind the individual stages.
In his fourth season as the San Francisco 49ers CEO, York has made the franchise back into a perennial contender. Under the leadership of the Cardinal Mooney graduate, San Francisco is 41-26-1 and has been to the playoffs two straight years. He also got to his first Super Bowl one year earlier than his uncle, Eddie DeBartolo Jr., who owned the team from 1977-99.
York, though, deflects the credit and tries to put the focus on the team.
"I haven't thought about it at all," said York when asked what it would be like to be up on stage receiving the Vince Lombardi Trophy if they beat Baltimore on Sunday in Super Bowl XLVII. "It's not up to me, it's up to the team and the guys to go out and perform.
"If it happens, it happens. I won't have anything to do with it."
Much like his uncle's championship teams, there are also plenty of ties to the Mahoning Valley. The team has stayed in the area the past two years when it has had two straight East Coast road games. York though did say that probably won't happen next season because the team has a game in London but would consider it in the future.
York also takes great satisfaction that a large portion of Browns and Steelers fans from the area are also rooting for the Niners.
"Its pretty unique. People don't understand Youngstown when you try to explain it to them and then you get there and get a little taste of it and you realize it is a special place."
Thursday, York discussed memories of the Niners' other Super Bowl trips, his uncle being a finalist for the Pro Football Hall of Fame for the second straight year and what being a new father has meant.
The last Niners' Super Bowl game was in 1995 in Miami.
"I was in eighth grade and 13. I actually had the flu so it was a long week for me and then listening to my family think that I was the one sneaking booze to the table. They realized quickly that a hangover doesn't last five days so it was a long week for me."
The team's turnaround under Jim Harbaugh did not surprise him.
"I think we expect to be in this game every year," York said. "That's the standard that my uncle set and I think I said it in 2010 with Coach [Mike] Singletary when we started 0-5 that we expected to win the division."
The Niners finished 6-10.
"People thought I was crazy but I saw the talent that was part of this team," York said. "I think Jim Harbaugh helped get that talent to play to its fullest potential and I'm proud of him for the job that he's done.
"I'm proud of [general manager] Trent Baalke for the team he put together. This is where the 49ers expect to be year in and year out."
York said it's too soon to compare this year's team with the glory days from 1981-95.
"We haven't done anything to be in the same league as [former coach] Bill [Walsh] and my uncle. There's a long way for us to go and you have start somewhere."
In 2011, the Niners spent five days in Youngstown inbetween wins at Cincinnati and Philadelphia, using Youngstown State's facilities to train.
"It was huge. You have to remember we were coming out of the lockout," York said. "There was no minicamp and the team hadn't come together until training camp started.
"That was sort of the first time where guys started to be together in an area where it wasn't necessarily about football but bonding, going to Handel's to grab ice cream, going to do some of the things in Youngstown that are very unique to Northeast Ohio.
"It was pretty cool. I thought it was a big thing for us."
The Niners also spent a week last fall after a loss in Minnesota and before a win over the Jets in New Jersey.
Next fall, the Niners will play the Jacksonville Jaguars in London, so York doubts the Niners will have back-to-back long road games.
"YSU has been fantastic," York said. "You couldn't ask for a better partner to give us access to an unbelievable practice field and training facility."
York called the Niners' experiences in Ohio "really cool. Its cool for my parents [John and Denise Debartolo York], all my friends that are back in Youngstown. I realize that the 49ers are not going to be the number one team in Youngstown.
"You have a lot of Browns and Steelers fans but knowing that you are everyone's second-favorite team and some their first its special because my family has been part of Youngstown for a long time and will be in the future."
York has his fingers crossed that his uncle will do well in Saturday's Pro Football Hall of Fame vote.
"You look at just the top line. The first owner to get to five Super Bowls, you look at the people he hired and put in place, he revolutionized really what owners do, how he treated people first class," York said.
"Look at a guy like Jeff Fuller who had a career-ending neck injury [in 2009] and my uncle took care of him, he still helps the Fuller family. That's who Eddie is.
"He not only won but won with class. He was the focal point for the team for a 15-year period and I don't know of anyone else who is close to that."
York and his wife, Danieel, are parents of a son, Jaxon, who was born on Oct. 27. He said that's helped him calm down during games.
"You realize there are more important things," York said. "It doesn't mean that you don't want to win. You also realize what you have control over and what you don't. I wouldn't trade fatherhood for anything."
Speaking of family, seeing his uncle present his mom the George Halas Trophy after the NFC Championship Game win over Atlanta "was awesome.
"Watching that was one of the best things I have ever seen. Every family has its struggles and things like that but being able to watch my uncle and my mom it was a very fun day for me.
"He was a part of it and I've told a lot of people that the 49ers can bring people together whether you are at Candlestick or watching from your home, it brings my family together too."