Kasich school funding formula gives more to poor, less to rich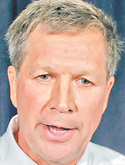 Photo
By Marc Kovac and Denise Dick
COLUMBUS
The state will provide increased funding for poorer school districts statewide through a new formula that takes into account property values and income levels.
Additionally, more state money will be provided for programs for the disabled, gifted students and those beginning to learn the English language.
Funding will be offered for preschool youngsters living in poverty. Certain students will have greater access to vouchers to attend private schools. And all districts will receive at least as much in state formula funding as they have this fiscal year.
Those are among the details unveiled Thursday by Gov. John Kasich and administration officials as part of a much- anticipated reform package.
"We want to make sure that every boy and girl, no matter what district they come from, are going to be in a position to have the resources they need to be able to compete with boys and girls in any other district across the state," the governor told an audience of school superintendents and officials at a suburban Columbus hotel.
He added later, "If you are poor, you're going to get more. If you are richer, you're going to get less. ... If you have disabled students, you're going to get help. If you have gifted students, you're going to get help."
Mahoning Valley educators expressed relief that Kasich's school-funding plan won't involve cuts for next year but voiced some concerns about expansion of the voucher program.
"That's good for us," said Youngstown Superintendent Connie Hathorn about not seeing a reduction next year.
The portion of Kasich's plan that equalizes funding regardless of a district's poverty level also sounds good to Hathorn.
"That's additional money for us," he said. "Maybe we'll be able to use some of it to reduce the deficit."
Austintown Superintendent Vince Colaluca is pleased the governor is attempting to address school funding and wealth issues.
Ohio's school-funding formula has been ruled unconstitutional by the Ohio Supreme Court.
About 50 percent of Austintown school district students are considered economically disadvantaged.
"It's good to hear there's not going to be a reduction" next year, Colaluca said.
He's concerned, however, about the expansion of the voucher program, which will allow any student from a family with an income below the poverty level to attend a private school using a voucher.
Hathorn also is concerned about that plan.
"We've got to do better than what we're doing to keep our kids here," he said.
The governor's plan also calls for increased financial support for disabled students. It would create a "Straight A" fund, $300 million in one-time grants for districts to improve their operations and reduce costs.
Colaluca said his district plans to pursue one of those grants for new technology as soon as the money becomes available.
"We are an innovative school district in Austintown," he said. "One of the things that hinders us is dollars."
The district wants to buy technology to help students in elementary grades who need help with reading. The initiative is in response to the third-grade reading guarantee that requires students to be reading on-grade level by third grade or risk not being promoted to fourth grade.
"I'm happy he's putting money into innovation," Colaluca said.
Liberty Superintendent Stan Watson is unsure of how the governor's plan will affect that district.
"We're a very unusual district," he said. "We have high property valuation, but very poor kids. You just don't see that very often."
The funding proposal will be part of Kasich's biennium budget bill, which he will introduce Monday. Legislative hearings begin Tuesday, with passage expected by July.
Kasich said the plan is "fully funded," with about $7.4 billion and $7.7 billion in state general revenue and lottery money each year of the biennium. That's up from $6.9 billion this fiscal year. Specific district-by-district funding information will be released in the next week.
In general, under the new formula, the state will distribute funding to schools based on what a 20-mill levy would generate in a district with $250,000 in property value per student. In the lowest-wealth districts, that valuation is about $50,000, while two-dozen districts have valuations of more than $250,000.
The state also will provide additional "targeted assistance" to schools based on the income levels of their residents, meaning poorer districts would receive more state assistance than wealthier ones.
Richard Ross, Kasich's head education adviser, added, "Funding is really not about operating schools. It's about educating our boys and girls."
The state would provide increased funding for children in impoverished areas to enroll in preschool programs and expanded vouchers for students in those areas and those attending schools having issues ensuring third-graders are meeting state reading guarantees.
Administration officials told superintendents the state would provide full per-student funding for schools that opt to offer full-day kindergarten and half-funding for those with half-day programs.
Kasich opted to leave funding guarantees in place, ensuring no district would receive less in the next two years than in the current one. But he warned the guarantees are not sustainable over time.
Many school groups praised the plan, including the Ohio eSchool Families and Friends Coalition and the Friedman Foundation for Educational Choice.
But Democrats said Kasich's plan does little to restore nearly $2 billion in cuts schools experienced in the last budget cycle.
"I am hopeful there will be room to work together on Gov. Kasich's plan, but this proposal does very little to address the devastating cuts in Gov. Kasich's last budget," House Minority Leader Armond Budish said.