Hilltop PTO sponsors Dinner with Dad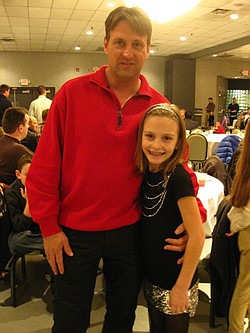 Photo
Hilltop Elementary School fourth-grader Gioia Mavar brought her dad, John, to the school's annual Dinner with Dad Jan. 24.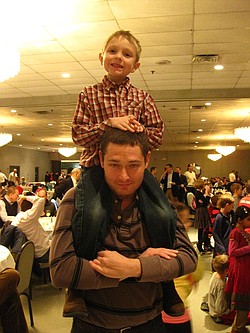 Photo
First-grader Logan Sebastian got a boost from his dad, Jarrid, to have the best seat in the house during Tom Phoolery's magic show at Hilltop Elementary School's annual Dinner with Dad Jan. 24.
By ABBY SLANKER
Hilltop Elementary School students, and their dads, braved the cold weather to enjoy an evening together during the school's annual Dinner with Dad Jan. 24.
The PTO-sponsored event invited all students and their dads to Mr. Anthony's Banquet Center in Boardman to enjoy an evening full of food, fun and entertainment.
Approximately 630 students and fathers enjoyed a buffet dinner of tossed salad, pasta with meatballs, chicken strips, Italian bread/butter, coffee, tea, soft drinks and white and chocolate cake for dessert.
After dinner, students and dads were entertained by Jocko the Clown who opened the entertainment portion of the evening. The evening's magical entertainment was provided by magician Tom Phoolery, who entertained the children with a variety of magic tricks while they gathered near the stage. He even involved audience members when he asked for both student and dad volunteers.
Four door prizes were up for grabs, with every family's ticket being entered. Prizes included two $25 gift cards to Toys R Us and two $25 gift cards to Handels.
The event also offered a 50/50 raffle, which was more than $1,000, and a Chinese auction, which consisted of 10 prizes such as a Kindle Fire, a large Nerf basket, a Lego basket, Canfield Cardinals basket, an American Girl Doll, a car care kit for the dads and a Justice chair with additional items. The winners of the prizes were drawn by Hilltop Elementary School Principal Cathy Mowry at the end of the evening.
The event was chaired by Hilltop PTO President Julie Miller and the PTO provided the Chinese auction baskets. Homeroom mothers and PTO mom volunteers also helped in almost every aspect of the event.