Fitch junior Sefcik hits milestone of 1,000 points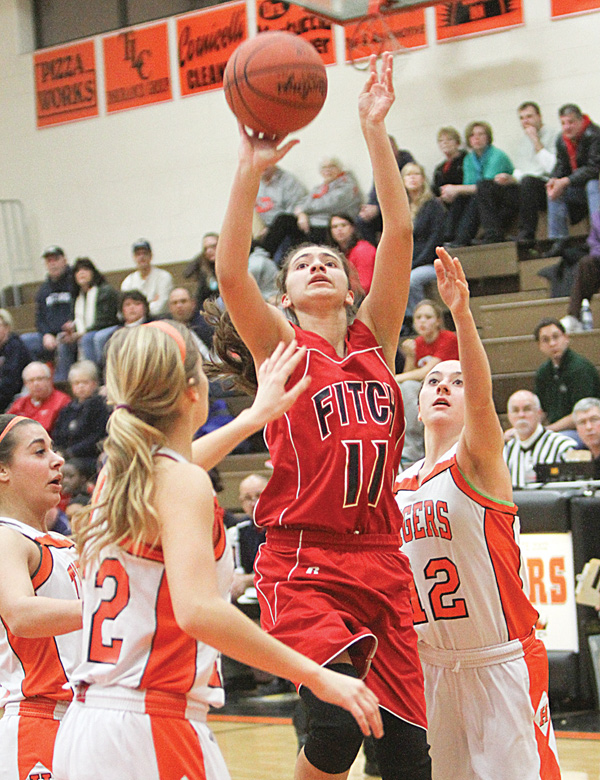 ---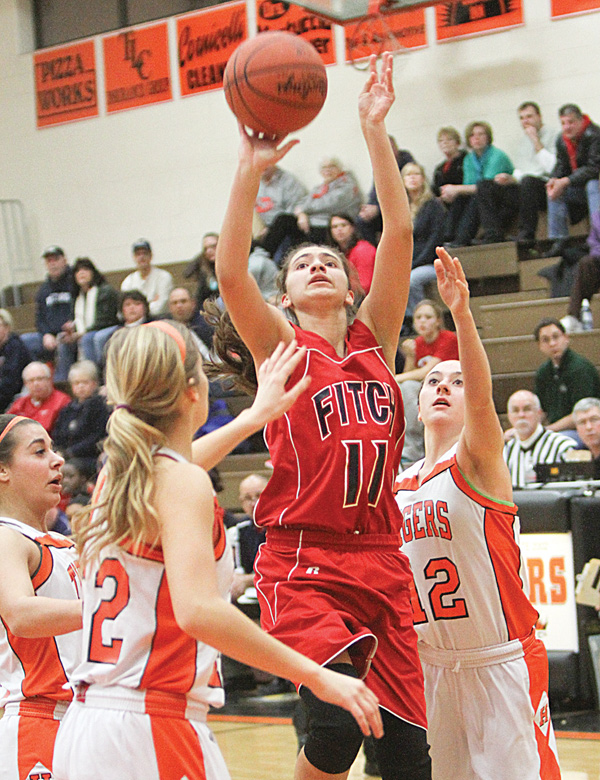 Photo
Austintown Fitch's Megan Sefcik (11) goes up for two between Howland's Gabby Cvengros (22) and Jordan Entler (12). Sefcik scored her 1,000th point Thursday at Howland.
By Greg Gulas
HOWLAND
Scoring 1,000 points in a basketball career is a very special accomplishment.
Hitting that milestone midway through your junior season means you're far from finished in adding to that total.
Austintown Fitch's Megan Sefcik entered Thursday's game at Howland needing six points to hit the scoring milestone.
Sefcik scored 21 points while Sarah Melfi added 20 to lead Austintown Fitch to a 61-48 decision in the All-American Conference American Division game.
"When you sign on to coach, Megan [Sefcik] is the type of player you just dream of coaching," Fitch coach Stacie Cepin said. "She is the consummate team player who deflects any attention she receives because she cares passionately about her teammates.
"Her teammates, in turn, care passionately about her," Cepin said. "Megan's leadership is a very big reason for our success this season."
Sefcik, who scored 11 points in the second quarter, got her milestone bucket 46 seconds into that quarter on a lay-up in the lane.
"Scoring 1,000 points is very special, but I owe all of those points to my teammates who got me the ball and helped me get open for a shot," Sefcik said. "It's always tough to play at Howland so the win, especially since it is a league game, makes this all more special.
"It's just an overall good feeling."
The Tigers (10-8, 4-5) took the early 4-0 lead on buckets by Trisha Ginnis and Jordan Entler, but the Falcons (15-4, 7-2) reeled off the next eight points.
Three-point plays by Gabby Cvengros and Ginnis keyed an 8-2 run for the Tigers.
Two triples by Melfi and Sefcik's 11 points offset eight points by Cvengros and seven points by Entler in the second quarter, allowing Fitch to pull to within 34-33 at the intermission.
"We fell behind early but kept playing good defense and that was big for us tonight, especially in the second half," Melfi said.
"I've been playing basketball with Megan [Sefcik] for a long time and there is no one more deserving of that milestone," Melfi said. "She really is the last person who would want all of this attention."
Two buckets by Maura Bianco and a jumper in the lane by Brenda Thompson gave Fitch a 39-34 at the outset of the second half. Their 6-0 run gave the Falcons their second lead of the game.
Four points by Cvengros and three more by Ginnis helped Howland forge a 43-all tie, but two free throws by Sefcik and a bucket by Melfi allowed Fitch to open up a 47-43 lead.
The Falcons increased their lead to 54-43 on a triple by Melfi at the 5:27 mark. The Falcons outscored the Tigers 7-4 the rest of the way for their second consecutive victory and the fifth in their last six outings.
"We played a pretty good game tonight against the second best team in the area," Howland coach John Diehl said. "We played a box-and-one and knew [Sarah] Melfi was a great shooter, but you have to give up something in order to double team [Megan] Sefcik.
"Our strategy was to hope that Melfi would have an off-night, but she was the difference in the game," Diehl said. "As for Sefcik, I am glad that she got her 1,000th point here.
"When you're just a junior and you hit that mark, especially when playing against Division I opponents, that's quite an accomplishment."
The Falcons outrebounded the Tigers, 31-24 with Cassie Custer hauling in a game-high 10 caroms.
Ginnis had eight rebounds for Howland.