Canfield baseball plans dinner, auction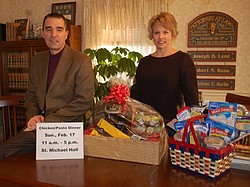 Photo
Neighbors | Submitted.Canfield High School Diamondbackers President Robert Rusu and Kim Dastoli, Chinese auction co-chair, pose with a few of the many baskets that will be in the Chinese auction at the baseball team's annual chicken and pasta dinner on Feb. 17 from 11 a.m. to 5 p.m. at St. Michael Parish Hall.

Photo
The Canfield High School Diamondbackers' fundraiser dinner will feature a silent auction with one-of-a-kind autographed sports memorabilia, such as this signed 16" x 20" of photo of Nolan Ryan on Aug. 4, 1993 when Robin Ventura charged the mound after an inside pitch. For details on the items available in the silent auction, email Chris Cole at ccole32345@aol.com.
The Canfield High School baseball program will sponsor a silent auction featuring hard-to-find autographed sports photos and other memorabilia on Feb. 17 from 11 a.m. to 5 p.m. at St. Michael's Parish Center.
Among the items up for bids are photos signed by Derek Jeter, John Simon, Nolan Ryan, Pete Rose, Jim Brown, Willie Mays, Urban Meyer and Trent Richardson.
The silent auction is part of the team's annual chicken/pasta dinner. The dinner costs $10 per adult, $7 for children 5 to 10 and free for those younger than 5. Tickets are available from team members, the CHS athletic office or Anne-Marie Luchanksy at 330-533-1378.