Brookfield's top wrestler is also its top student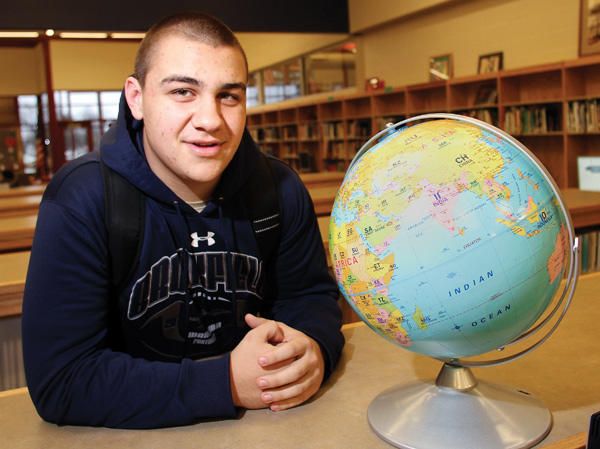 ---
Brookfield Wrestler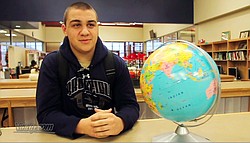 Video
Brookfield wrestler David Jamieson recently got his 100th win and sports a 4.0 GPA.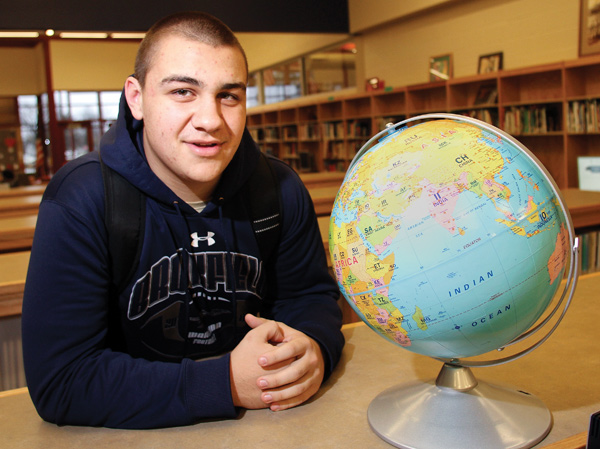 Photo
Brookfield senior David Jamieson is a 4.0 student and three-sport stand out.
BROOKFIELD
Sunday will be Dave Jamieson's 18th birthday, a milestone in any adolescent's life.
But the Brookfield senior already reached a milestone last Friday when he won his 100th high school wrestling match at the Josh Hephner Invitational.
"I feel great about it," Jamieson said of the achievement, coming in the 220-pound class.
Jamieson explained his motivation.
"Because I was 6-24 as a freshman, I knew I had to get a lot of work in," Jamieson said of taking stock after his first year's performance. "My No. 1 goal was to get 100, then to get to state and then to place. I've got to keep working hard over these next four weeks and I'll get those other two goals."
Jamieson became the sixth wrestler in Brookfield history to reach 100.
The 100th win was his first match last week during the Hephner at Fitch. He then won five more matches, but finished runner-up with a loss to North Royalton's Garrett Snyder, 3-2, in double overtime.
He currently stands at 105-55.
Entering this season, Jamieson needed 27 wins to reach 100. He had 26 going into the Hephner, so he knew his first match would give him 100.
"That's when I went out and got it done," he said.
His century win was by pin about 30 seconds into the first period.
Jamieson estimates his 100 to be 50 percent pin and 50 percent decision.
"I'm either a pinner or a decision kind of guy," said the wrestler, who was the left guard and defensive tackle on the Warriors' 12-1 football team. Dave, a son of David (Dewey) and Denise Jamieson, also plays baseball.
As the latest member of Brookfield's 100-win club, Jamieson has some elite company ahead of him, including Tristan Thompson — the school's all-time leader with 165 wins — and current head coach Brad Harnett with 122.
Ross Tice (150) later wrestled at Kent State and narrowly missed making the NCAA nationals as a junior.
Jamieson's six-foot frame holds both brute and brain.
He is ranked first in his senior class of approximately 100 with a 4.0 grade point average and he's in line to be valedictorian.
Assistant coach Ben Solomon said a 100-win career is difficult, especially for smaller-division schools.
"Brookfield is Division III and doesn't get as many matches and tournaments like the Div. I and II schools, so it's harder for our guys to reach 100," he said.
Jamieson believes he's proven himself against quality competition, pointing to a fifth-place finish at the prestigious Bill Dies tournament in Akron a few weeks ago.
The health factor has been in Jamieson's corner.
"I've had little tweaks here and there, but, knock on wood, I've been pretty injury-free and very happy about that over the last four years," he said.
Jamieson said he is proof that academics and athletics are linked and that intelligence has something to do with success in wrestling.
"They go hand-in-hand," he said of the components that helped get him 100 wins. "It's the same mentality: wrestle smart, hard and aggressive."
Being perceptive has paid off for Jamieson, too.
"I love scouting a wrestler. I'm always looking where I could take advantage to score points on them — attack their weaknesses and stay away from their strengths," he said. "Wrestling them smart and hard got me where I am today."
Jamieson has been to the district level twice and, last year was two matches away from state. Starting tonight at Boardman, Jamieson will be the defending 220-pound champion at the EOWL championships at Fitch. For the 220 crown last year, Jamieson beat Liberty's Cody BuCher.