---
Tuesday, December 31, 2013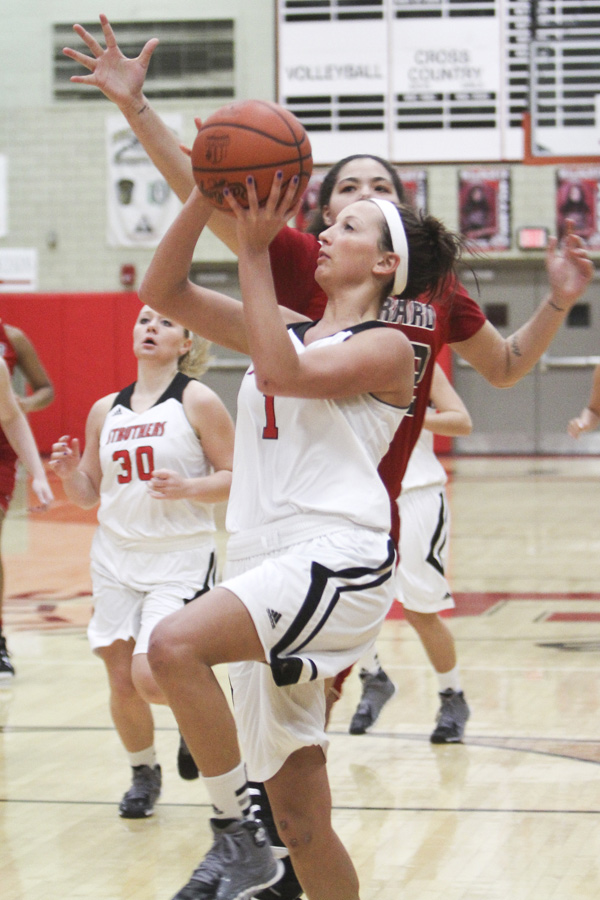 Photo
Ashleigh Ryan of Struthers goes for a layup against Girard defender Bree Bishop during the first quarter their game Monday at the Struthers Fieldhouse. Ryan posted 14 points or the Wildcats, who downed the Indians, 65-50.
By Steve Wilaj
STRUTHERS
After draining her fourth of five first-half 3-pointers, Struthers High guard McKenna Shives reacted excitedly, but not for the typical reason.
"That was all you!" she yelled to teammate Brittany Zupko, who found Shives wide open with an accurate skip-pass. "That was all you!"
The Wildcats point guard scored 21 first-half points and finished with a game-high 23 on Monday as Struthers defeated Girard, 65-50, at the Struthers Fieldhouse.
"Brittany did some great screening and Halle Smrek did, too," Shives said. "And all the girls were making great passes.
"The only reason I got shots were because of their screens and passes, Shives said. "I got some open shots and luckily they fell tonight."
Shives knocked down 5 of 9 shots from behind the arc — made 9 of 17 overall — and sparked the Wildcats (6-3) to a quick start. They jumped out to a 46-19 halftime advantage, keyed by a 27-8 second quarter.
"Our transition was really good in the beginning of the game," Struthers coach John Grandy said. "A little bit of press action, plus I was really happy the way we were distributing the ball. Our guards did a nice job and there was some good team work."
Shives called it "one of the best games" Struthers has played all season.
"It really started on our defense," she said. "We fed off each other and then we pushed the ball up and caused some problems. We spread the ball around really well, so it was an unselfish night for all of us."
Zupko added 15 points and 12 rebounds for the Wildcats while Ashleigh Ryan scored 14 and Halle Smrek had eight.
Girard coach Andy Saxon said his Indians had trouble keeping up with Struthers' quickness.
"We're a half-court kind of team and they're quicker than us," Saxon said. "We didn't get back in transition and they had too many easy baskets and too many open looks.
"We didn't switch on screens or hedge well and they had too many cutters to the basket."
Girard (7-3), who was paced by Bree Bishop's 19 points and 12 rebounds, answered with a 31-19 second half advantage.
"We went with a quicker lineup, which is pretty much five guards," Saxon said. "We did a lot better, but when you get in that 20-point hole, it's kind of hard to fight back. We didn't give up though."
Alasija Dykes added 14 points for the Indians, who committed 18 turnovers.
"Our defense was excellent in the first half," Grandy said. "I think Girard showed some toughness in the second half and we had a bit of a letdown, but give them credit."