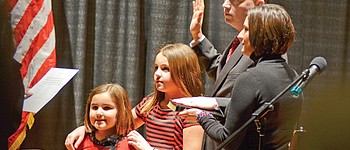 Challenges residents to become involved
'Now is the time to get involved,' new mayor says at his swearing-in
Published: 12/31/13 @ 12:15
By Joe Gorman
YOUNGSTOWN
John A. McNally said during his swearing-in ceremony he wants residents to become involved in improving the city they call home.
McNally, who took the oath of office Monday as the city's 50th mayor from Judge Elizabeth Kobly of Youngstown Municipal Court, said he wants his administration to also get the word out about the city, which he said he wants to make into the "jewel of Northeast Ohio."
He said that while government provides many necessary functions for day-to-day living, citizens should run for office or do other things to help government and make the city a better place to live.
"We need more community involvement; we need more citizen involvement," McNally said during the ceremony at the DeYor Performing Arts Center downtown. "They don't need to be major things. But we need your involvement and your caring every single day."
In a ceremony where his father, Jack McNally, performed the introduction that was heavy on the new mayor's ties to Youngstown and also on his reliance of family, the mayor-elect and his father both thanked the volunteers who worked for him.
McNally said he owed a special debt to his wife, Virginia, and their two daughters and extended families for helping out with child care since he began running for the job in October 2012.
McNally also thanked fellow parishioners at St. Christine Church for helping him, and said he was sorry he had missed some soccer games or softball practices while he was running.
McNally said he wants to explore regional partnerships for the good of the city and the area that will be mutually beneficial. He added he also is exploring ways the city can be more of a partner with the city school district.
"I think the city of Youngstown has to be an arm-in-arm partner with the school district," McNally said.
He also said he wants to rev up the city's image. He said the city will aggressively promote itself and point out its positive aspects through social media, and he wants residents to do that also.
He admitted there are many challenges but said he feels confident his department heads and members of his cabinet will be able to address them. He said he already has had discussions with U.S. Rep. Tim Ryan of Howland, D-13th, about some regional issues with which the city can take part.
He ended his remarks urging residents to take part in making their city a great place to live.
"Now is the time to get involved," McNally said.
Don't Miss a Story
Sign up for our newsletter to receive daily news directly in your inbox.