Browns fire Chudzinski after one season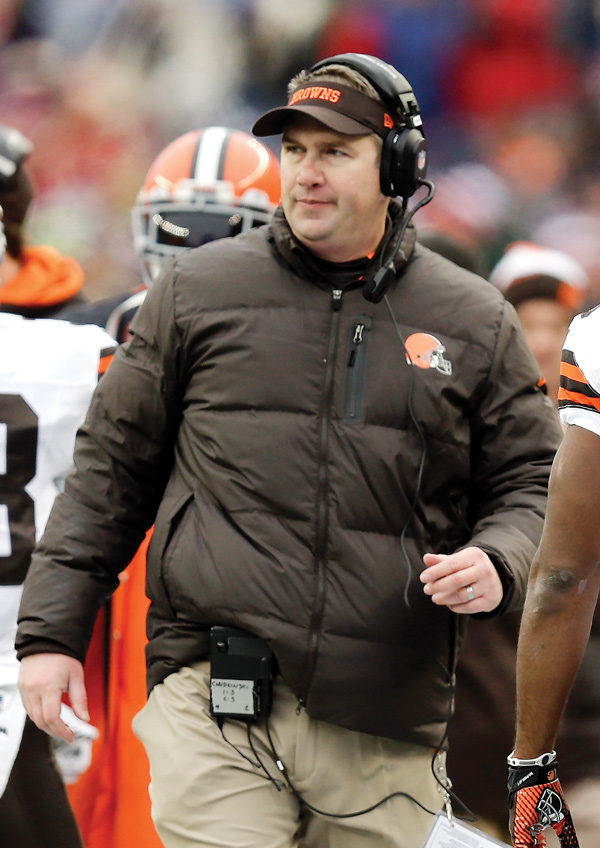 ---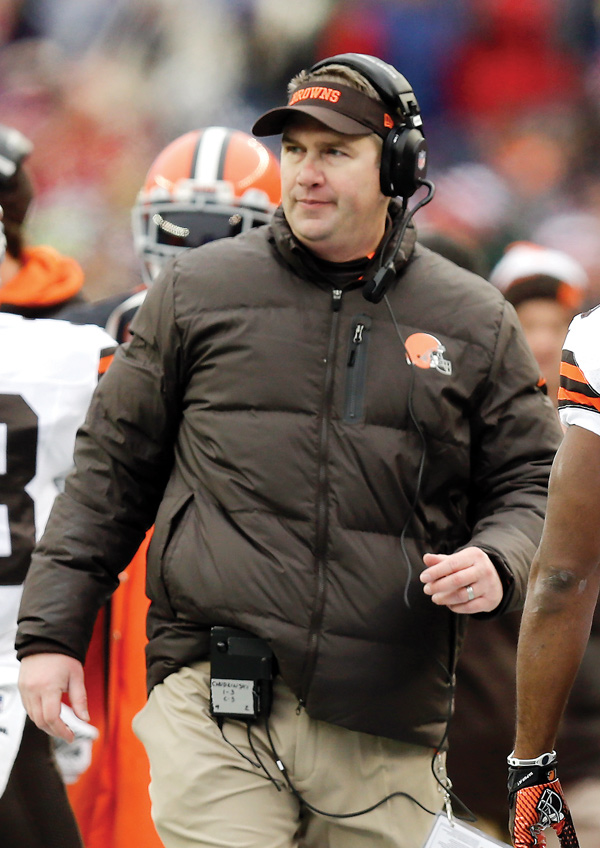 Photo
Cleveland head coach Rob Chudzinski walks the sideline during a game against the New England Patriots in Foxborough, Mass. After only one year as coach, Chudzinski was fired Sunday, just hours after the Browns' final game — a 20-7 loss to the Pittsburgh Steelers at Heinz Field in Pittsburgh.
Chudzinski fired after 4-12 season
Cleveland Plain Dealer
PITTSBURGH
Citing a "concerning step backward in the second half of the year,'' the Browns fired head coach Rob Chudzinski Sunday night after only one season.
The announcement came at about 9:35 Sunday night, about five hours after the Browns closed their season at 4-12 with a 20-7 loss to Pittsburgh — their seventh straight loss and 10th in 11 games.
The firing came after a lengthy meeting between Chudzinski, Browns CEO Joe Banner and owner Jimmy Haslam in which Chudzinski had an opportunity to plead his case, a source told Cleveland.com.
The meeting was supposed to take place this morning, but Chudzinski, who has three years left on his contract, pushed for it to be moved up.
Chudzinski's two coordinators, Norv Turner and Ray Horton, are also expected to be gone soon, and it's doubtful anyone on the current staff will remain. The staff is expected to meet with the top brass early this morning.
A source said the Browns regretted having to fire Chudzinski after one year, but that they saw the team regressing and felt it was time to cut their losses.
Leading candidates to replace Chudzinski will be Patriots offensive coordinator Josh McDaniels, a graduate of Canton McKinley High and John Carroll University, and Penn State's Bill O'Brien, the former Patriots offensive coordinator. O'Brien, the frontrunner for the Texans job, interviewed for the Browns vacancy last year, but opted to stay at Penn State for a second season.
The Browns wanted to interview McDaniels last year, but he wasn't ready to leave New England. A source told Cleveland.com last year that McDaniels would "jump at the chance'' to coach his hometown team when he was ready to return to the head coaching ranks.
The Browns called a press conference for 12:30 p.m. today and issued the following unattributed statement:
"We appreciate Chud's passion for the Browns, and we have great respect for him both personally and professionally. We needed to see progress with this football team. We needed to see development and improvement as the season evolved and, unfortunately, we took a concerning step backward in the second half of the year.
"Our fans deserve to see a consistently competitive team. We have high standards, and there's an urgency for success. When we believed we were not positioned to achieve significant progress in 2014, we knew we had to admit that a change was needed, and move forward.
"Browns fans are the most loyal and passionate supporters in the NFL. We're fully committed to bringing them the winning football team they deserve."
On Sunday, Browns owner Jimmy Haslam was so disgusted with his team's performance in Pittsburgh — and 20-0 deficit in the fourth quarter — that he stalked out of Heinz Field with about six minutes remaining, before the Browns averted their first shutout of the season. He was also incensed after last week's 24-13 loss to the Jets, a game in which the Browns felt they had superior talent and lost by a double-digit margin.
Despite using three quarterbacks this season, the front office felt the team was getting worse by the week instead of better, a source said.
Meanwhile, the front office looked around and saw other first-time coaches excelling, including Eagles Chip Kelly (10-6), Arizona's Bruce Arians (10-6), San Diego's Mike McCoy (9-7) and Chicago's Marc Trestman.