Hirsch's foul trouble dooms YSU women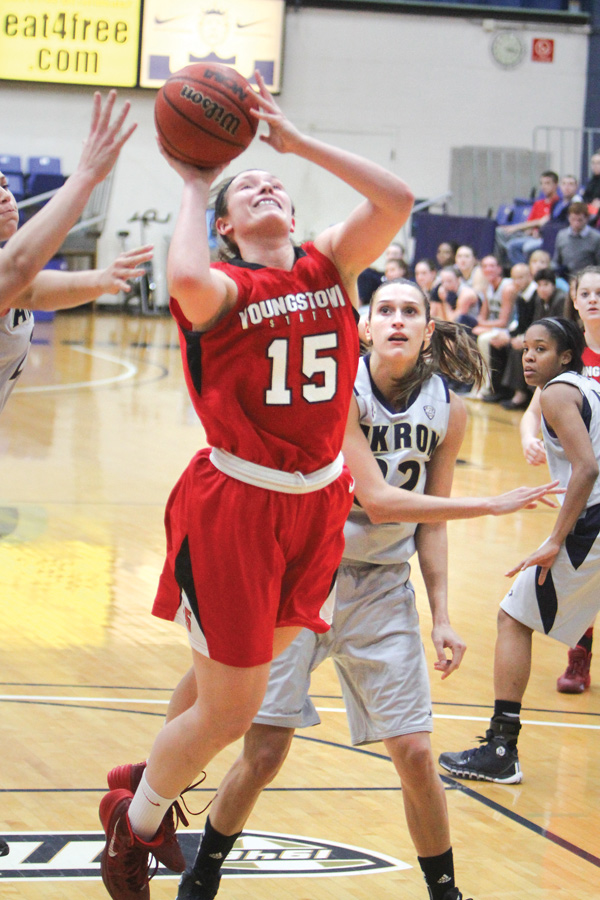 ---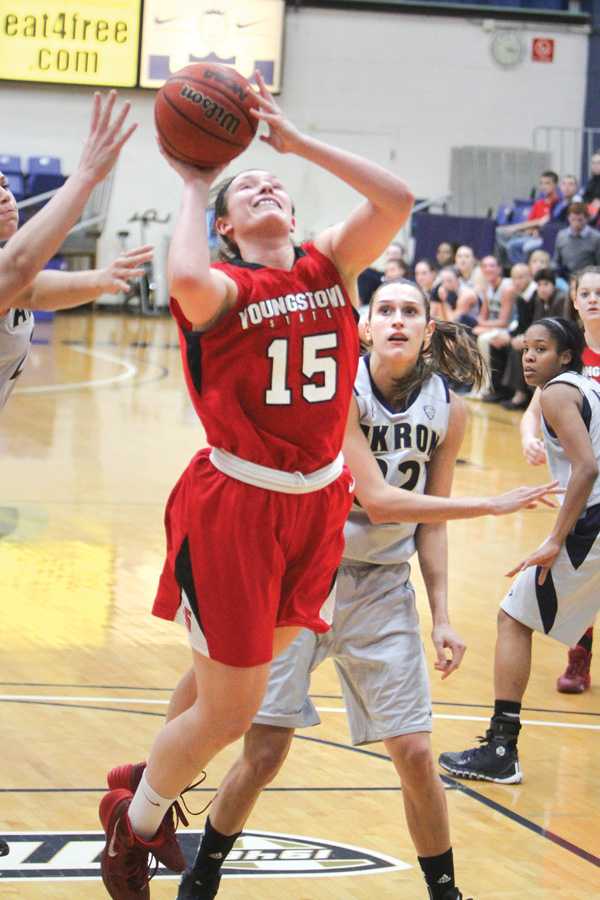 Photo
YSU's Heidi Schlegel goes for a layup after being fouled by Akron's Rachel Tecca during Sunday's game in Akron. Schlegel tied her career high in single game points with 27, but the Penguins fell 91-75 to the Zips.
By Joe Catullo Jr.
AKRON
Since Jenna Hirsch has filled the void at point guard for the Youngstown State women's basketball team, the Penguins started playing better by winning three of their last four games.
"Since she's been starting, she's been gaining more confidence," YSU coach John Barnes said. "She's catching up to the speed of the game."
Her presence was felt early during Sunday's contest at Akron. But when she committed her second foul with 12:29 remaining in the first half, things escalated quickly for the Zips in their 91-75 victory.
"Jenna's a key player for us," Heidi Schlegel said. "I think that definitely hurt us in the first half."
YSU (4-8) has been searching for another point guard with preseason second team All-Horizon league selection Shar'Rae Davis out for the season medically. The Penguins are using their fourth starting point guard in the past four seasons.
At first, the Penguins dealt with it well. Trailing by two at the 4:24 mark in the first half, Akron (6-5) bolted to a 15-2 scoring run and led by 15 at halftime. Hirsch played the entire second half, helping the Penguins cut the deficit to four at the 11:38 mark.
"We just need to get more consistent," Barnes said. "I think she is gaining confidence. Liz [Hornberger] had a little bit of an off-night, and she stepped up well."
The Zips never went on a huge scoring run after that to win by 16 points. They slowly put YSU away with mini 5-0 and 6-2 scoring runs.
"We had some mental breakdowns on defense that we could have limited," Schlegel said.
Four YSU players scored in double figures. Schlegel tied a career high and led all scorers with 27 points (19 in the second half). Kelsea Newman, another freshman, scored 16 points off the bench while Monica Touvelle chipped in 10.
Newman set a new career high in points after not scoring in eight minutes during YSU's 74-67 victory against Vermont on Dec. 21.
"I'm extremely happy for her. I think that she needed that. It's good for her to gain confidence," Schlegel said.
Besides Hirsch, Schlegel, Newman and Touvelle, the rest of the Penguins combined for eight points. Karen Flagg had six while Latisha Walker scored two. Newman and Touvelle were the lone bench players to score.
"We're not deep enough and don't have enough players to have anybody not play that well. We can't win if that happens," Barnes said.
The Penguins held Akron's all-time leading scorer, Rachel Tecca, to 11 points. Hanna Luburgh scored a team-high 25 points while Kacie Cassell tallied 20. YSU allowed its first opponent to score at least 90 points since Dec. 16, 2012 at West Virginia.
"We couldn't stop them," Barnes said regarding the team. "We did everything we could to try to slow them down, but they played really well."