'Praising God isn't dependent on an address,' church leader says following Mount Calvary fire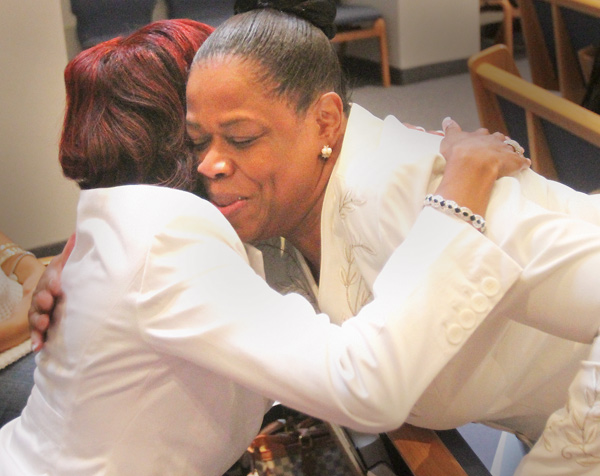 ---
Mt. Calvary Holds Services At New Bethel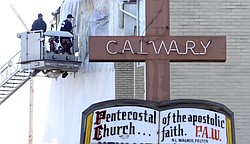 Video
A Saturday fire forced Mt. Calvary Church to move Sunday services to nearby New Bethel Baptist.
Mt. Calvary holds service at New Bethel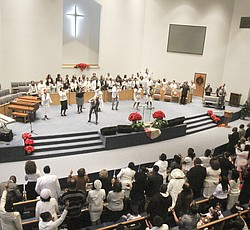 Gallery
A Saturday fire at Mt. Calvary Church forced services to be moved to neighboring New Bethel Baptist Church.
By Ed Runyan
YOUNGSTOWN
There was no mention of sadness when the members of Mount Calvary Pentecostal Church on Oak Hill Avenue had their regular Sunday service the night after a serious fire at the church Saturday morning.
Instead, the words of the church's leadership and congregation expressed their joy "to be in the house of God tonight."
Their house was several blocks north of their regular address at 1812 Oak Hill Avenue, because the Rev. Kenneth L. Simon of New Bethel Baptist Church on Hillman Street invited Mount Calvary to use its church Sunday night.
The two churches have had close ties for many years, dating back to when Bishop Norman L. Wagner led Mount Calvary and the Rev. Lonnie A. Simon led New Bethel.
"Praising God isn't dependent on an address," one minister said leading up to the sermon of Mount Calvary's pastor, Suffragan Bishop C. Shawn Tyson.
"Any worshipper can praise God on a good day. Only the real worshipper can praise God on a bad day," the Rev. Mr. Tyson said.
"Anyplace you worship is the house of God, whether it's in your bedroom, on a street corner or in a park," added Daphine Carter, a lay minister at Mount Calvary as she entered the church before the service.
"This is the temple of God," she said, patting her chest with her right hand.
The service, conducted at 7 p.m. at a time when New Bethel didn't have a service planned, allowed Mount Calvary to carry on as usual.
In fact, the turnout was expected to be at least as large as the 600 to 700 who normally come to Mount Calvary's Sunday morning service, said the Rev. Alfred Coward, an assistant pastor at Mount Calvary.
"We will definitely rebuild," the Rev. Mr. Coward said before the service, referring to the estimated $100,000 in damage to Mount Calvary's rotunda, which is known as the "prayer tower."
Other than smoke damage, the fire didn't damage the church sanctuary.
"We've been here before," Mr. Coward said of having to rebuild, referring to roof damage several years ago.
"We don't understand the reason, but everything has a reason. It will pass," he said.
"I know we will fix that, and it will be better than what we had. That's what insurance is for," he said.
Mount Calvary plans to have one more service at New Bethel, the 6 to 8 p.m. New Year's Eve service, but church leaders expect to be back at Mount Calvary this Sunday with its services in the gymnasium because of the smoke damage in the sanctuary.
The fire may have been electrical related, but the state fire marshal's office said it does not appear to have been suspicious, Mr. Coward said. Church officials will talk to a contractor early this week about making repairs, he said.
Among the members of Mount Calvary who attended the service was Jay Williams, former Youngstown mayor, who is the midst of confirmation hearings in Washington to be head of the U.S. Economic Development Administration for President Barack Obama.
Williams attended school at the church's Mount Calvary Christian Academy and attends Mount Calvary when he's home.
"I think it speaks volumes for Rev. Simon and the parishioners here that New Bethel Baptist Church immediately opened their doors and opened their hearts," he said. "The hospitality they have shown is greatly appreciated and heartwarming."