Youngstown's history starts with a village
By Sean Barron
YOUNGSTOWN
For many people, a discussion of downtown Youngstown's past probably conjures images of a bustling retail hub where shopping, dining and entertainment were at a premium.
Memories Of Christmas Past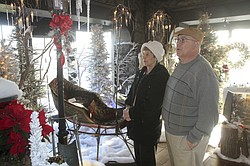 Gallery
Memories of Christmas Past at the Arms Museum in Youngstown.
Few, however, would likely think of a compact village with scattered houses and taverns, a smattering of small commercial buildings and a pool of water from which livestock drank.
"Everybody lived downtown, no matter what your means were," Bill Lawson, the Mahoning Valley Historical Society's executive director, said during his one-hour lecture, "Historical Perspectives on Downtown Youngstown," in which he referred to the city's population concentration in the early and mid-1800s.
An estimated 50 people attended the first of two presentations on the city's history and development he gave Saturday in the Carriage House behind the Arms Family Museum, 648 Wick Ave. on the North Side.
Lawson's talks also tied in with "Memories of Christmas Past" and "It's Christmastime in the City," two exhibits that run through next Sunday at the museum.
Downtown Youngstown's location and square grid design were established shortly after John Young surveyed the area in the 1790s and before the village was designated a "city of second class," meaning with a population between 5,000 and 25,000, Lawson explained.
Throughout the 19th century, most population and industrial growth moved in an east-west pattern that largely paralleled the Mahoning River, and an unpaved Federal Street was the main thoroughfare. In the 1870s, larger commercial buildings and a greater number of churches were changing the landscape, he continued, noting that The Rayen School, the city's first centralized school, opened in 1866.
"Things are a little more bustling at that point," Lawson said about the 1870s.
In the 1890s, Youngstown's population, industry and residential growth accelerated. By the 1930s, the city had established itself as the central business district, which was fueled by a population that skyrocketed from 45,000 in 1900 to about 170,000 in 1930, as well as transportation that included jitney buses and street cars, Lawson noted.
"We were at the peak of our development," he said.
The iron and steel industries, along with other commercial ventures, were highly profitable between 1910 and the 1930s, which brought revenue to the city, he pointed out. Such funds went toward building the main branch of the Public Library of Youngstown and Mahoning County in 1910 and Stambaugh Auditorium in 1926, he continued.
Things began to change, however, in the 1960s, which was a period of urban renewal for Youngstown and many cities trying to rid themselves of increasing blight, Lawson explained.
Such efforts locally proved counterproductive partly because Market Street was reconfigured to run unabated through Central Square, which unwittingly encouraged many people to drive through instead of to downtown. In addition, Lawson said, Interstate 680 moved a lot of traffic from the city to surrounding suburbs.
Also, the polluted Mahoning River, which was the city's source of drinking water until Meander Reservoir was built in 1932, became harder to access, he explained.
Today, however, efforts are underway to re-establish connections with and develop the river corridor. Similarly, the Youngstown Business Incubator and the Covelli Centre as well as new retail stores and restaurants are part of a "renewed energy" in the city; additionally, beautification projects continue downtown thanks to organizations such as Youngstown CityScape, Lawson added.
"It's very exciting to be downtown on a Saturday night and not be able to find a parking space," he said. "It's a great problem to have."
The Arms Museum's second floor is featuring a montage exhibit that shows West Federal Street's heyday between the 1920s and 1960s.
New additions include a wooden reindeer and sleigh by the former Royko Products Co. of Youngstown; two glass candy canes that were decorations in the former McKelvey's lingerie department in 1945; and an original Raggedy Ann doll used as a display piece in the late 1970s at the former Strouss' department store, noted Anthony Worrellia, the museum's exhibit designer and a Christmas architect.
David Herchik and Richard Looman of Maryland, both formerly of Youngstown, donated the McKelvey's pieces.
"This is really a great walk down memory lane for a lot of people," Worrellia said. "It's been very well received. We've actually had many people in tears."