SENIOR SALUTE - BAND EDITION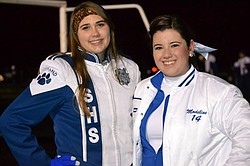 Photo
ALEXIS BENEDIS and MADELINE CRISH
Name: Madeline Crish; Alexis Benedis
Instrument: Flute and Majorette; Clarinet
Q. When did you start playing your instrument?
A. Crish and Benedis both began playing their instruments when they joined the band in the fifth grade.
Q. Best memory of being in band/marching band?
A. Crish: My favorite was performing at the Massillon Band Night each year. There are many terrific bands are invited to perform at this event. I also enjoyed performing at the BCS National Championship game in New Orleans. I also enjoyed going to Cedar Point in the summer with the band.
Benedis: I would have to say my most memorable part of the band was performing in New Orleans at the BCS Championship game. I also enjoyed the trips to Cedar Point and Massillon Band Night.
Q. Why is music important to you?
A. Crish: I have made some really wonderful friends through being in band. Some of my favorite musical performances was the "Pop Medley 2013" and "Riverdance," because I love the music and the drills are really great.
Benedis: Music is so important in expressing yourself and has given me the opportunity to travel and meet some wonderful new people. I think one of my favorite musical numbers to play was "Riverdance" from my freshman year, the drills were my favorite to march to.
Q. What college do you hope to attend/intended major?
A. Crish: University of Akron majoring in Early Childhood Education.
Benedis:I hope to attend Miami of Ohio and major in Chemistry.