Poland students explore careers at MCCTC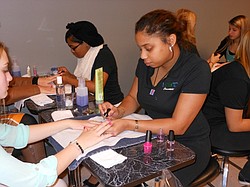 Photo
Chiffon Ford (left) and Tiffany DeJesus, both of Austintown, treat Poland students to a manicure during their career exploration day at MCCTC.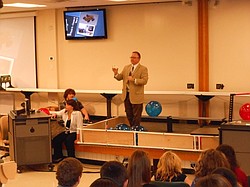 Photo
Engineering Instructor Walter Baber shows students a product made by 3-D printing during their visit to MCCTC.
More than 180 eighth grade-students from Poland Middle School spent the day exploring career opportunities with a hands-on tour of the Mahoning County Career and Technical Center, plus a panel discussion with area skilled tradespeople and presentations from other professionals.
The students began their day at MCCTC and experienced many of the career center's programs through a hands-on tour. The tour allowed students to spend 30 minutes in labs including Information Technology, Engineering, Health Tech Prep, Truck and Diesel, Aviation Maintenance Technology, Cosmetology and Interactive Multimedia. From learning how an aircraft works in Aviation to working on robots in Engineering, the students experienced first-hand what it's like to learn and work in these fields.
After taking part in the hands-on activities, the students then were taken on a tour of the rest of MCCTC's facilities and had the opportunity to see all of the school's 22 programs.
The tour was organized by MCCTC Career Development Supervisor Jacqueline Kuffel and Poland Middle School Principal Mark Covell.
"We aim to give students a diverse experience, which is part of why we came here to MCCTC. I'm hoping they leave here today with a diverse view, and maybe there is a student out there who was inspired by what they saw," Covell said.
After touring MCCTC, the students also had a special STEM presentation from MCCTC Engineering Instructor Walter Baber and Manufacturing Technology/Precision Machining Instructor Michael Lutz. As the third largest industry in the state of Ohio, manufacturing presents a number of future career opportunities for students.
"It's a huge industry and it's diverse. We want to get you thinking differently about how and where you want to work," Baber told the students.
Baber demonstrated to the Poland students how the robots the Engineering students are working on operate, while Lutz shared with them the formula one race track that former MCCTC students created.
"Part of what makes Career Technical Education great is that it's project-based learning, and for students coming to tour our school, the best way to truly experience it is through a hands-on tour, It really is great way for them get in there and experience a career they're interested in, or maybe open their eyes to something new," Kuffel said.
After visiting MCCTC, the Poland students then headed back to their school for even more career exploration.
First they participated in a panel discussion with four area tradespeople and then took part in three additional sessions with other area professionals.
"This is a big day for the students that they can start to think about the path they want to go on," Covell said.