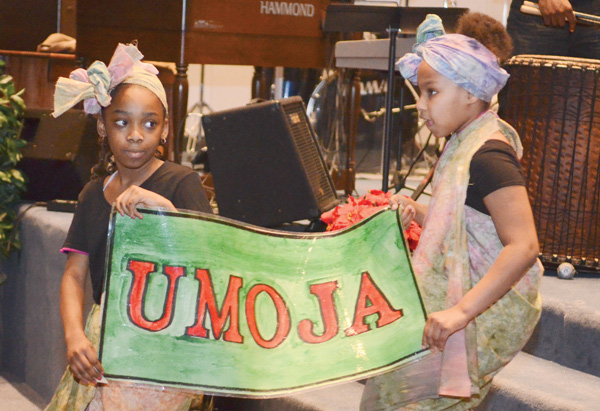 ---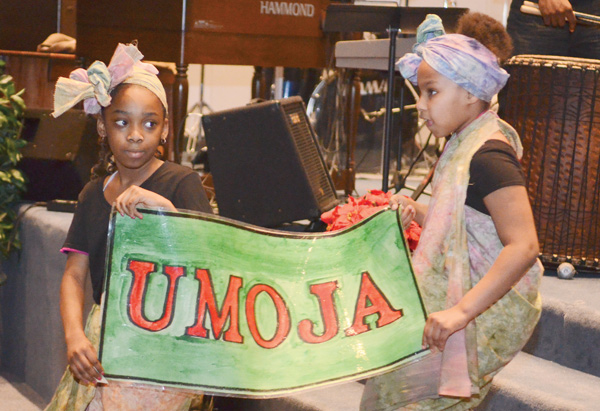 Photo
Melea Lewis, left, and Amira Monserrat hold a sign reading "Umoja," which means unity, during a celebration for the first night of Kwanzaa at New Bethel Baptist Church on Thursday. Three other Youngstown churches also will host Kwanzaa celebrations in the next week.
By EMMALEE C. TORISK | etorisk@vindy.com
YOUNGSTOWN
On the first night of Kwanzaa, as a few hundred community residents filtered into the sanctuary of New Bethel Baptist Church for its annual celebration, the Rev. Kenneth L. Simon looked around, awed by the sight of so many young people.
Some were in attendance with their families. Others — many of them donning traditional African dress — were part of the Harambee Youth Organization, which provided African dancing and drumming throughout the event.
Des'Jannique Perry, a sophomore at Youngstown Early College, was one of them.
She's been a part of the Harambee Youth Organization for three years, and said she enjoys discovering the meaning behind each of the dances the group performs, as well as more about her cultural background and history. In fact, "Harambee" means "Let's all pull together."
"I like learning the culture," Des'Jannique said. "We learn about something different than ourselves."
Thursday's celebration at New Bethel explored "Umoja," or unity, the first of the seven principles of Kwanzaa. The seven principles correlate with the seven days of Kwanzaa, from Dec. 26 to Jan. 1, and honor African heritage in African-American culture.
Other principles are "Kujichagulia," or self-determination; "Ujima," or collective work and responsibility; "Ujamaa," or cooperative economics; "Nia," or purpose; "Kuumba," or creativity; and "Imani," or faith.
The Rev. Mr. Simon noted that he's hopeful that African-Americans of all ages embrace those seven principles, as they're "critical to our survival, prosperity and functioning in our community," and also that the meaning of Kwanzaa is instilled in the community's youth.
Dr. Maulana Karenga of California, a professor of Africana studies, created Kwanzaa in 1966 as the first specifically African-American holiday, giving American blacks the opportunity to celebrate their history, and youths the chance to reconnect with their heritage.
"It's a positive message, with the engagement of young people," Mr. Simon said. "My father always said, 'People who don't know where they've been don't know who they are or where they're going.'"
He added that New Bethel, at 1507 Hillman St., has long hosted the first night of Kwanzaa — an event that also included black vendors and a "Karamu," or community feast, to conclude the celebration.
Three other Youngstown churches will each explore one principle of Kwanzaa in the coming days, said Zakiya Miller, a longtime Harambee of Youngstown Inc. member.
Miller explained that "Kwanzaa" is derived from a Swahili word that means "first fruits," noting that the celebration allows African-American families to come together and celebrate their roots and traditions — as well as the past year's accomplishments and the new year.
"It gives you a chance to celebrate your culture and your heritage, and to interact with young people," Miller said. "It's a teaching mechanism, and a way of bringing everyone together."
Laquesha Lewis and Porsha Corley, both of Youngstown, said though they're former performers with the Harambee Youth Organization, they still try to attend performances and support the group's current members. Both noted that the organization, along with the Kwanzaa celebrations, serve important purposes in the community.
To Lewis, they help to "keep the youth off the streets."
"The community is being uplifted — not dragged down," Lewis said. "It's a positive outcome."
And to Corley, they offer African-Americans the chance to learn about their culture.
"It's not just African-Americans, either," Corley added. "Everybody should know their culture, their background, where they came from."