Valley Jews provide gift of Christmas time by volunteering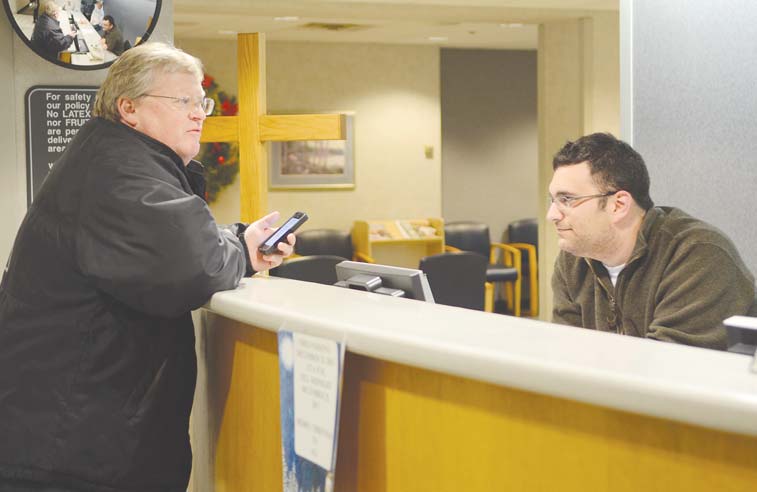 ---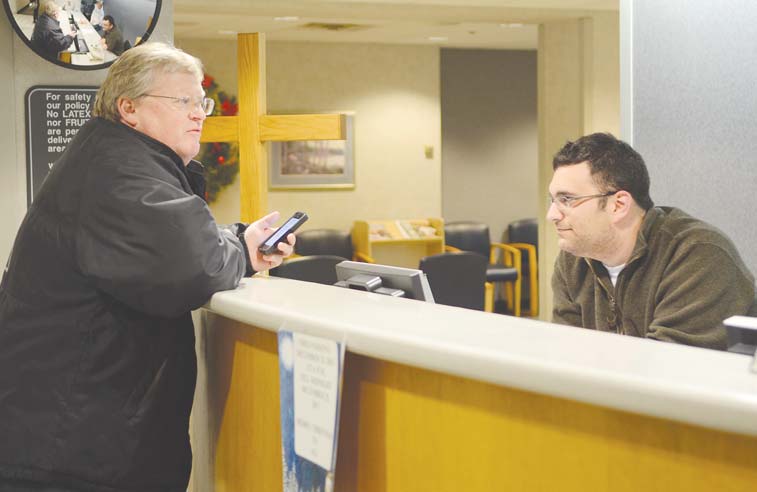 Photo
Jason Axelson, a volunteer with B'nai B'rith and Operation Snowflake, greets visitor Eric Ronan at St. Elizabeth Health Center in Youngstown. Members of the Jewish service organization and others volunteered at the information desk and the gift shop on Christmas Day to give Christian workers the day off .
By LINDA M. LINONIS
linonis@vindy.com
YOUNGSTOWN
Members of B'nai B'rith, Mahoning Lodge 339, and the Jewish community at large put Operation Snowflake in motion on Christmas Day.
They filled volunteer positions at information desks and gift shops at St. Elizabeth Health Center on Belmont Avenue and Sharon Regional Health System in Sharon, Pa.
"The reason was to give volunteers, who are Christian, the chance to spend Christmas Day with their families," said Neil Altman, who coordinates Operation Snowflake with his wife, Denise.
The Jewish service organization began the project in 1978 in the Valley; it is marking its 35th year.
"This is the biggest service project we do," Altman said. Members also visit residents at Heritage Manor and individuals serve the community in various ways.
Altman said he became affiliated with B'nai B'rith when he was in high school as a member of its youth organization. At one time, there was a women's organization, but that has since been absorbed as part of B'nai B'rith. "It's one Jewish family," Altman said of the groups.
Volunteers are motivated by the spirit of helping people, Altman said. "It gives you a sense of satisfaction."
He speaks from personal experience because he and his son, Max, volunteered together. "It was nice togetherness," he said, and the bonus, he added, was being of service.
It's called a tzedakah, the Hebrew word for charity, Altman said. The project is an act of charity and about "giving of ones's self."
Altman said the volunteers covered three shifts on St. E's information desk and gift shop from 10 a.m. to 12:30 p.m., 12:30 to 2:30 p.m. and 2:30 to 5 p.m. They also staffed the information desk at Sharon Regional; its gift shop was closed.
Altman said he preferred having two volunteers per shift so that they could help each another.
Dr. Walter Malkin, a B'nai B'rith member, has volunteered about six years. "It's a favor to our Christian friends," he said of the project.
"It's something good to do, and you feel good doing it," said the retired podiatrist.
He helped staff the information desk at St. E's, working the 10 a.m. shift. "It's nice to see people in festive moods," he said. "I enjoy being with people."
Dr. Malkin, who was in practice for 48 years, said he is impressed by the crowds who visit the hospital on Christmas Day. "You see family and friends carrying in packages," he said of the visitors remembering loved ones.
"I wish this holiday mood would remain all year-round," he said.
Jason Axelson has logged about a decade as an Operation Snowflake volunteer. He said a friend invited him to get involved, and he did.
"I enjoy it because it's different from my regular job," said the construction manager. "I like the idea of people helping people."
Axelson, who is on the information desk, said he liked the "cheerfulness" of the atmosphere.
A 15-year volunteer, Sam Beigel became a volunteer because of his membership in B'nai B'rith. "I like helping out so that Christians can have the holiday off," he said.
"There's a self-satisfaction in it," Beigel said of the volunteer service. "I see it as giving back to the community."
Beigel, who serves in the gift shop, said he enjoyed meeting new fathers who stop in to shop.
"The festive mood is nice," Beigel said, "but most important, "it's about helping your fellow man."
More like this from vindy.com