Campbell PD starts nightly foot patrols during holiday season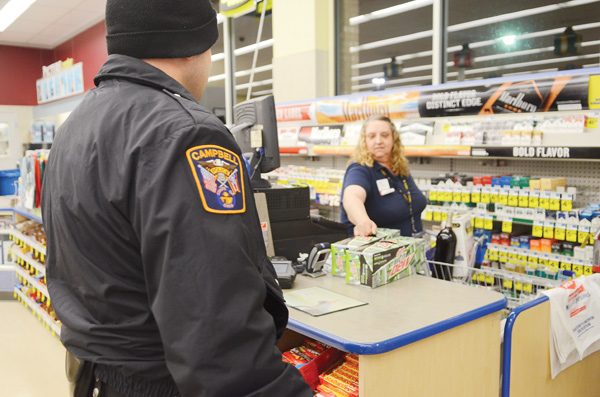 ---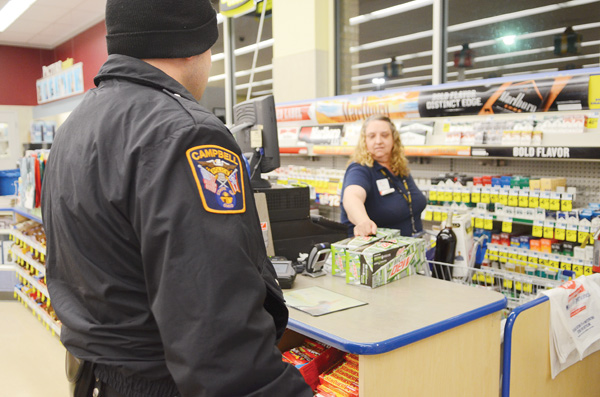 Photo
Campbell police officer Joe Pavlansky checks in with Rite Aid employee Cindy Stanovich. Pavlansky is part of the police department's foot patrol during the holiday season.
By EMMALEE C. TORISK
CAMPBELL
Anthony Tsikouris has owned Campbell Hardware for more than 20 years, but this year is the first that uniformed police officers have begun to make nightly visits — on foot — to his McCartney Road business.
Though it's been just a few weeks since officers started making their checks of banks and fast-food restaurants, pharmacies and pizzerias along the half-mile stretch of McCartney Road, or U.S. Route 422, from 12th Street to Sycamore Drive, the impact of their actions is immediately evident, Tsikouris said.
"It's a better presence," he said. "It shows that there is a zero tolerance for any type of negative activity, and gives a better idea [for people] to not do anything stupid."
Drew Rauzan, the city's police chief, explained that the foot patrols help to deter thefts and robberies at the 20-some businesses in the city's business district. They also help business owners and their patrons feel more secure, he added.
Per the chief's instructions, officers assigned to the foot-patrol beat have a list of businesses that they're required to check multiple times every evening, along with the front and back walkways or alleyways that surround the business. They also must ensure that all doors are locked and look for and identify anyone suspicious in the area.
Officers either get dropped off in the area, or park their police cruiser nearby.
"Our purpose is to be proactive," Rauzan said. "We're getting out in the public, instead of waiting for something to happen. We're putting our officers where our money is going to be during the holiday season."
Rauzan added that he'd long wanted to implement the foot patrols, but only recently had the police department's staff reached the level where doing so was feasible. He elected to begin them along McCartney Road, as criminals target money around the holidays — and "there's a lot of money in the business district," he said.
At this point, the foot patrols will continue only through Wednesday, though Rauzan said he's looking into extending them, depending upon the response.
Tsikouris said he's glad that with Rauzan's takeover — he was made interim chief in June, then permanent chief in November — also came "different tactics toward keeping the community safe." All have so far been beneficial for the city, he said.
"It's good to have a younger police chief that is creative in trying to prevent crime, but also help businesses ... as far as being safe, and local pedestrians ... who maybe feel safer as they're shopping," Tsikouris added. "In an area that's a little more in the higher crime, it's nice to see that going on."
Mitch Zupko, one of the officers assigned to the foot-patrol beat, said he already has received a great deal of positive feedback concerning the heightened police presence in the city's business district.
He's heard that many residents now feel more comfortable shopping in that part of the city. He's heard, too, that employees now aren't as frightened to walk out to their cars after closing their business for the night, or that drivers aren't as concerned that someone might rob them while they're parked at a bank's drive-thru window.
"Our residents feel much better," Zupko said. "It shows that we're out here protecting. We're making sure that they can do their shopping, get gas or get their evening supper, and don't have to worry about somebody coming up to them."