Snowy owls flying high in Mahoning Valley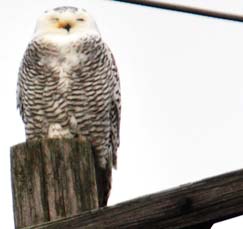 ---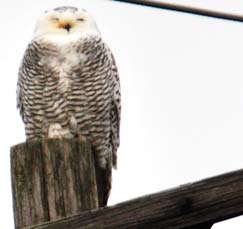 Photo
This snowy owl perches atop a telephone pole on Mahoning Avenue near Raccoon Road in Austintown. A large migration of the owl species has migrated south from the Arctic this year. Snowy owls also have been spotted at Mosquito Lake in Bazetta. Wildlife leaders urge the public to keep their distance from the owls.
Staff report
BAZETTA
Beginning in late November, a flock of immigrants took up residence in Ohio from the shores of Lake Erie down to Highland County.
These foreigners weigh about 6 pounds and stand 2 feet tall, but their wingspan covers almost 5 feet. And more are coming.
Every couple of years, snowy owls migrate south when the lemming — a rodent — population in the Arctic crashes. Some come from deep in the Arctic tundra, and they have been spotted as far south as Bermuda.
Every migration brings a noticeable population that settles where Ohio bird watchers can catch a glimpse of the rare white birds. This year a few owls have been spotted on Mosquito Lake in Trumbull County.
Jim McCormac is a biologist with the Ohio Department of Wildlife. He's also a bird enthusiast who tracks and studies the frequent migrations. The birds are popular to the general public because of Hedwig, Harry Potter's carrier owl in J.K. Rowling's series of books, he said. But the owls' rarity and stunning white covering makes them popular for birders.
"It's the sheer 'wow' factor," McCormac said. "[They're] an interesting, high-end predator."
Bob Fusco, an Allstate Insurance agent who works in the Westgate Plaza on Mahoning Avenue in Austintown, was shocked when he spotted a snowy owl perched on a telephone pole above the plaza's sign last week.
It stayed there, periodically swiveling its head, from about 11 a.m. until 4:30 p.m. Though he'd read a few articles about the snowy owls' migration, last Wednesday was the first time Fusco, who lives in Beaver Township, had actually seen a snowy owl.
"It was fascinating," Fusco said. "I was checking on it in between customers. Crows were squawking at it, cars were going by it, people were snapping photos of it. But he didn't care."
Female snowy owls are white with dark spots on their wings, giving them a salt-and-pepper look. Males sport mostly white coats with a few dark spots. But both sexes have bright yellow eyes that can be seen when they are hunting for the 1,600 lemmings they will eat each year — that's 190 pounds of "lemming steak" to McCormac.
Snowy owls hunt in the open where they can easily see prey. What makes them such an unusual sight, though, is that they hunt during the day.
Ethan Kistler, a director-at-large of the Ohio Ornithological Society, said he spotted one along Interstate 90 in a farmer's field.
"They're not in the woods like a typical owl would be," he said.
They are out in fields, open areas and even on break walls in the water. And the owl population is especially dense this year.
"You get years like this winter where numbers are unprecedented," Kistler said. "In recent decades this is the biggest push into Ohio."
Numbers are so high in the Northeast that JFK International Airport in New York added snowy owls to the list of birds to kill to protect planes. Boston's Logan International Airport has started trapping the birds and releasing them into the wild. Already 20 have been caught.
The last large-scale snowy owl migration was in 2011. That year, large numbers of birds were spotted from Oregon and Washington all the way to the eastern edge of the continent in Nova Scotia, Canada, but this year's influx is much denser and confined mostly to the Midwest and Northeast.
Ohioans should expect the owls to hold their ground until March when the survivors might fly back north for mating season.
Both McCormac and Kistler offer the same advice to the public and bird-savvy alike: Keep your distance. A number of the birds will die due to starvation and other natural causes, but people can help keep stress low by observing from a distance to let the owls hunt.
"Keep a respectful distance," McCormac said. "Some birds have potentially come 2,000 miles."