Griswold hopes to continue kicking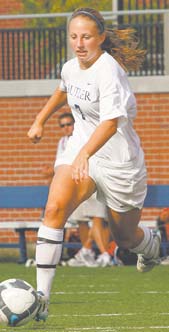 ---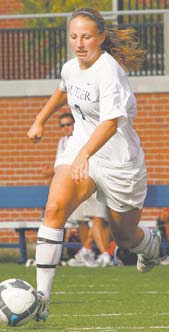 Photo
Butler University soccer player Katie Griswold heads downfield in a match against Miami University.
By Brandon Judeh
Former Cardinal Mooney standout soccer player Katie Griswold had a tremendous career at Butler University, finishing as the team's sixth all-time leading scorer.
She also was a member of the first Bulldogs team to participate in the Big East conference, but she almost wasn't a part of that.
In July 2012, Griswold's senior season came to an end before it started as she tore her ACL.
Knowing she could use a fifth year of eligibility, things looked good for the Youngstown native, but she soon discovered things wouldn't be easy.
"After the first surgery it was discovered that I had also tore my meniscus," Griswold said. "I knew it was going to take me a while to come back from this, especially after having to get the second surgery, but I was determined to come back and finish out my career."
Head coach Tari St. John admits that everyone was unsure of what kind of impact Griswold would have on the field after returning from the surgery, but knew that Griswold is no ordinary player.
"Some players may have shut it down after that second setback especially because we were moving into the Big East, which is one of the best soccer conferences in the country," St. John said. "In Katie's case, it made her push even harder to get back on the field."
Griswold did just that and just in time for the Bulldogs' inaugural year in the newly realigned Big East.
"It was a lot different playing in a bigger conference after coming from the Horizon League, the competition was very strong, but it was a very cool experience," Griswold said.
Butler made the Big East tournament, losing to St. John's 3-2 in the quarterfinals. Griswold scored her 23rd career goal. She also holds the Mooney record for most goals scored in a career with 106.
"I have a lot of special memories from my days at Mooney, from scoring my 100th goal at home to winning districts every year," Griswold said. "But probably my favorite memory was freshman year when one of our seniors found me off a corner kick and I headed the ball through the net and she ran over and picked me up.
"That's when I first felt like I belonged."
With college winding down the 22-year-old Griswold already knows what she wants to do after she earns her degrees.
"I want to design medical devices, that's why I went with a dual major," Griswold said.
She is majoring in chemistry at Butler and will earn a mechanical engineering degree from Purdue University.
No matter how busy her career may keep her, she said that she hopes to continue playing soccer at the next level, whether it is in the U.S. or overseas.
"I want to play on, there is a pro team in Tampa, Fla., that I'm looking at and I would love to eventually play overseas," Griswold said. "It doesn't really matter where I play though, just as long as I'm playing."