Firefighters receive awards for life-saving efforts
Poland Firefighter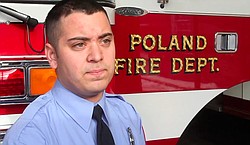 Video
Poland Firefighter Kyle Conklin talks about a recent rescue.
By kalea hall
poland
Like all firefighters and first responders, the Western Reserve Joint Fire District firefighters who received life-saving awards this year from the fire district do not see themselves as heroes.
"You did what you were taught to do," assistant Fire Chief Tony Sferra said. "And you just hope that it comes out the way you want."
Eleven firefighters and EMTs, mostly volunteer, received a life-saving award at the district's Christmas party on Dec. 7, but the real reward came when they were able see each of the lives they touched when they took heroic steps to save someone who wasn't ready to leave this earth.
"The real reward is right here," said Suzanne Tucci of Anthony Mediate, who she helped save in June.
Suzanne, an emergency medical responder, and her husband, fire Lt. Tony Tucci, who is also an EMT, of the Western Reserve Joint Fire District both responded to Mediate's Lowellville home in the spring after he yelled out and slumped over in his chair. The 70-year-old had a pulse, but he would not respond to them and then went into cardiac arrest.
They got to work trying to resuscitate him. "Things just roll," Suzanne said. "You just do it."
Finally, Mediate's heart beat came back.
"It's very rare," Suzanne said. "It's really gratifying for us."
He suffered a ruptured bypass graft aneurysm and his odds at living weren't high. He had a heart bypass surgery 16 years ago and one of the bypass grafts became a 5-centimeter-wide aneurysm, which means he was bleeding around his heart and lung.
Repairing this is very difficult, and Anthony's chronic kidney disease did not help the situation. One of his two kidney transplants was failing, so he was on his way to needing dialysis, was on blood-pressure medication and suffered from intestinal bleeding. The doctors also believed he suffered a stroke during his cardiac arrest.
Dr. Lucas Henn performed the challenging, six-hour surgery needed to remove the ruptured aneurysm and replace the bypass graft. Anthony survived and stayed 10 days in the hospital and then moved on to a nursing home for another week.
"What they did, they were basically the people who saved his life," said Anita Mediate, Anthony's wife. "The fact that they were able to resuscitate him was amazing."
Anita is also very thankful for the doctors at St. Elizabeth Health Center, especially, Dr. Michael Malmer, who she says never gave up hope on Anthony.
"Every time they see him they say, 'Here's the miracle man,'" Anita said.
Another miracle story happened in April this year. The fire department received a call for a basic brush fire on U.S. Route 224 in Poland Township. It was then they received a call for a two-car, head-on collision on Route 224 between Struthers and Quarry roads. They arrived to find an elderly woman in a Cadillac trapped in her vehicle. She was considered in critical condition with multiple life-threatening injuries. In the other vehicle, the 21-year-old driver, Anthony Lopez, also had to be extracted from the Oldsmobile he was in. He also had critical, life-threatening injuries. His passengers, two 20-year-old females and a 16-year-old female, had serious injuries.
A crash reconstruction done by the Ohio State Highway Patrol showed Lopez driving at an excessive speed as he went to pass a car in front of him on a double yellow line road. Lopez is charged with vehicular assault.
Six firefighters received the life-saving award for their efforts at the crash scene. Two rescue helicopters arrived while it took first responders more than an hour to get both drivers out of their vehicles.
"She said she was at peace," said Kyle Conklin, a volunteer for the district who sat with the woman while she was extracted from the vehicle.
The injured elderly woman did not wish to be identified for this story.
Conklin held the woman's neck so she would not cause any more injuries by moving, and to keep her calm. The woman explained to him she was on her way to give her husband communion and asked him if she would give her the communion she had, so he did. He also prayed with her.
"Kyle Conklin is a hero, in the true sense of the word," she wrote in her statement. "He was my guardian angel that day and I will never forget him. Many people heard my story and everyone said it gave them chills. He risked his own life for the good of others."
Conklin is a recent graduate of Youngstown State University and now a mechanical engineer, but in his spare time he enjoys saving lives. "I joined and I loved it," he said. "I love helping others. It's so rewarding."
Firefighters John Gulgas and Gio Melia also know the reward of saving someone. The two are often at Baird-Mitchell Field on Lee Street in Poland to help injured football players, but a call they received this year turned out different from the rest. A woman was unresponsive and on the ground. The two, with help from firefighter Dan Wright, got to work trying to get the woman's pulse back.
"Your adrenaline goes," Melia said.
Then, a pulse.
"It's very rare to get it back, but when you do your heart is pumping," Gulgas said.
Other firefighters who received the life-saving award are: Bob Clement, Jake Zimmerman and Shaun Serich. Sferra also helped at the crash scene and received an award. Five other awards were given for help at the crash scene and four firefighters received the personal achievement award. Al Rivalsky received EMS provider of the year and Melia was honored as firefighter of the year.
The Western Reserve Joint Fire District is comprised of three stations with 80 volunteers.
More like this from vindy.com