Nativity figures set in new manger at St. Joseph the Provider Church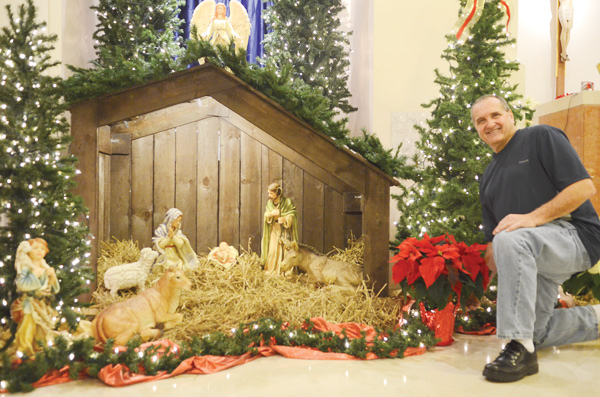 ---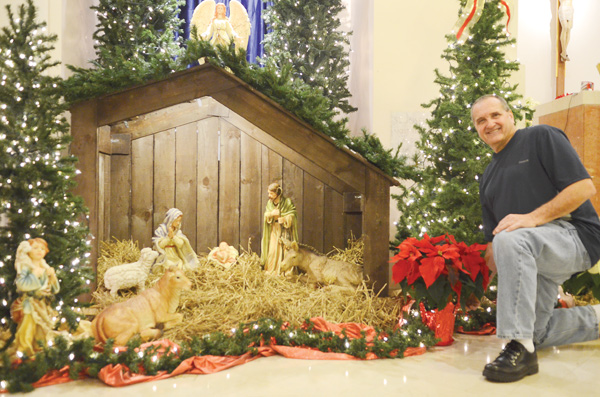 Photo
Wes Scott, a member of St. Joseph the Provider Church in Campbell, sets a poinsettia plant next to the manger that is the focal point of the Christmas decorations at the church. He said the manger has a "rough look" to mimic a stable.
By LINDA M. LINONIS
CAMPBELL
Figures in the Nativity scene at St. Joseph the Provider Church have a new manger as their home.
Wes Scott, a church member, said the old manger "fell apart" after use last year. So, over the summer, the retiree from Allied Waste made a new one.
"I have time, and made a decision to do it," he said.
He said the manger has a purposely "rough look" to mimic the stable. He crafted it from pine boards and stained it. It's about 5 feet wide and 4 feet tall.
The Nativity figures were donated by Dorothy Stellmar.
On Sunday afternoon, Scott put the manger together, and the Nativity figures were placed.
And then the decorating magic began.
About 20 volunteers — adults and children — gathered in the church at 633 Porter Ave. to decorate the sanctuary in anticipation of Christmas.
Lori Swantek, a member for about 14 years, coordinated the effort.
"We don't really have a plan; it just comes together," she said. "I like people to be creative and have fresh ideas."
About 25 trees were decorated with white lights, which made the sanctuary twinkle. Red bows accented some trees, while others were decorated with silk poinsettias.
About 40 real red and white poinsettia plants were strategically placed on and around the altar.
Swantek said the manger on the left side of the altar is a focal point. A blue backdrop, decorated with a glittery star, is the background for the manger, watched over by an angel. Lights twinkle from greenery woven into the scene.
Swantek said she sees the project as "decorating for the church community." She said she and other volunteers give "time and talent" to the effort. "I hope when people come in they have that 'aha!' moment and have joy as they think about God."
Paulette and Rick Jamrozik, lifelong members, were among the decorating crew. "I'm told I have a knack for decorating, and I love Christmas," she said, adding she's known at many craft stores between Pittsburgh and Cleveland.
The decorating usually takes about six hours to complete.
For Diane Rodriguez, decorating adds to the anticipation of Jesus' birth.
For the Mesaroses, it's a family event. "Decorating God's house is the most important," Kelly Mesaros said. "I hope people are in awe as they anticipate Jesus' birthday."
She said she and her husband, John, involve their children, Alexis, 10, and Anthony, 13, because they want to teach them "to do a lot for God because he does for us."
Another family on the decorating crew was Chrissy DeGenaro Flasher and her husband, Chris, who were married at St. Joseph in 2002. She said they wanted their children, Isaiah, 10; Kataryna, 8; and Victoria, 3, to value community service and service to the church.
She said she and her husband wanted their children to understand supporting a church was more than a financial donation. "We want them to understand volunteer time is important," she said.
The Rev. Shawn Conoboy, pastor, said the volunteers "demonstrate commitment and love for God and church."
"So much of prayer is nonverbal," he said, adding that the "beauty of the sanctuary will help people experience the joy of Christmas."
Decorations will remain in place through the 12th day of Christmas, Jan. 5, Epiphany.