Lakeview's Pavlik nears career record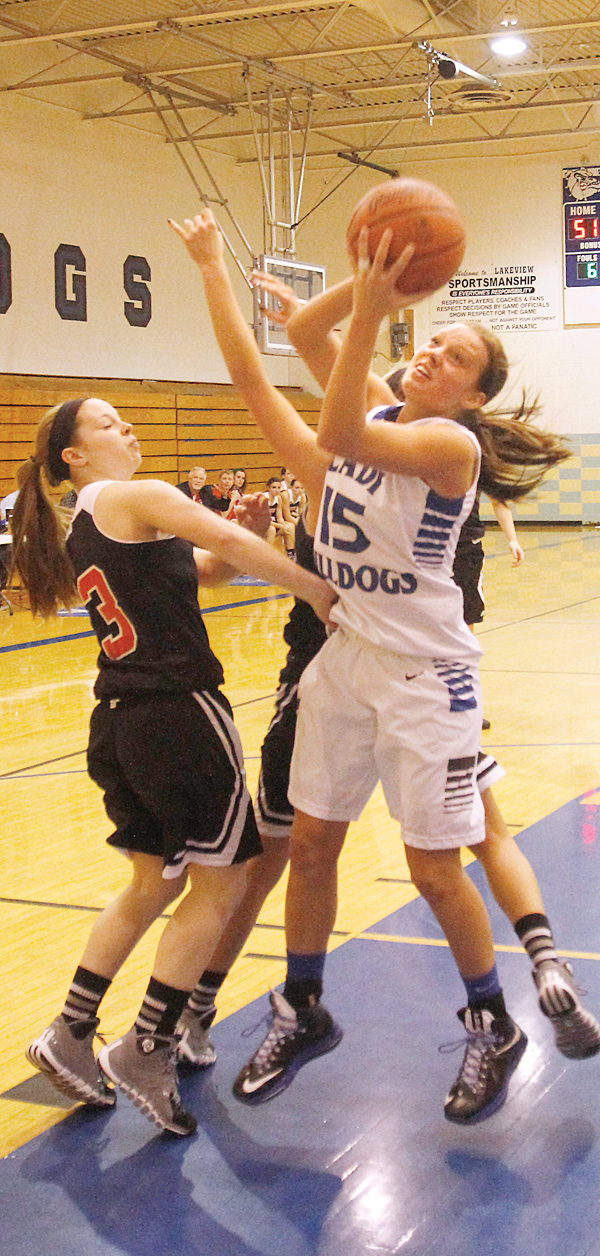 ---

Photo
Lakeview's Alli Pavlik scored her 1,000th career point Dec. 2 against Struthers and broke her own school record for points in a game (56) on Dec. 19 against Campbell. Pavlik is now just 37 points away from becoming the Bulldogs' most prolific scorer by surpassing Ali Gagne's all-time career mark of 1,172.
The Lakeview senior had 56 points in last game
CORTLAND
The Lakeview girls basketball record book for most points in a single-game now reads:
Alli Pavlik 56 points vs. Campbell, 2013.

Alli Pavlik 47 points vs. Campbell, 2012.

Ali Gagne 46 points at Conneaut, 2011.
When asked if he just needed to get more girls named Alli (or Ali) to come out for the team, all Lakeview coach Adam Lewis could do was laugh.
"This Alli, anyway, is just a phenomenal athlete," Lewis said. "She just has a real competitors heart and you can see it on the court."
Prior to Thursday night's game against Campbell, Pavlik remembered what her coach told her the last time she faced the Red Devils in 2012.
"He told me, 'You have three quarters to do it, then we're taking you out,'" Pavlik recalled.
The it her coach was referring to was breaking the school record of 46 points in a game set by Gagne the previous year.
Pavlik finished with 47.
That record barely lasted a year thanks to her 56-point outburst Thursday against a familiar victim in Campbell.
"I really wasn't planning on breaking it but I'm glad I did," Pavlik said. "My goal was to get in the state record book (a minimum of 55 points is required) and now I'm just glad it's over."
Pavlik had 17 points after one quarter and 30 by halftime. It was at that point her teammates told her to go for the record.
"Most of it was thanks to our defense, who kept stealing the ball, and I just had to finish with a lay up past one defender," she said. "I think our team is just really unselfish. We don't have anyone that's jealous of one another."
Pavlik was 22-of-36 from the floor, including four 3-pointers, and was 8-of-13 from the foul line. The Bulldogs won the game 98-31 to remain a perfect 8-0 overall, and 4-0 in the All-American Conference's National Division.
"A game like that, where you have such a great individual effort, is easy to say that it was not a team effort," Lewis said. "We went into the locker room after the game and first thing Alli did was thank all of her teammates. It's that selfless style of play that can really help us this season."
It's been a seamless transition from the grass to the hardwood for Pavlik this season, who finished her soccer career with 137 goals. She'll be attending Ohio Dominican next fall to play soccer.
For now she has a chance to become Lakeview's most prolific scorer in basketball as well.
Sitting at 1,135 career points, she's just 37 away from Gagne's all-time career mark of 1,172.
The Bulldogs host Niles tonight.
"I would love to do it at home in front of all the fans and students but I don't know," Pavlik said, "that might be a lot to ask."
As for whether or not she'll be doing any scoreboard watching?
"Sometimes I don't even look at the scoreboard and I'm not even sure what the score is," Pavlik said. "When I do that I play better, so I try not to look at it."
She leaves that job up to her dad in the stands.
"He knows every point I score and can tell you where every shot I take is," Pavlik said with a laugh. "So he keeps me updated."