Reader: Turnpike fix is easy, if they cared
Ohio Turnpike Response to Hagan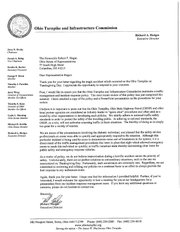 Document
A response letter to Representative Hagan regarding his concern of how the fatal traffic accident between Sandusky and Toledo was handled on the Ohio Turnpike on Thanksgiving Day.
When you are in communications, you develop a skill for explaining your side of the story.
I wrote a column two weeks back taking to task the Ohio Turnpike Commission for stranding 2,000 or so motorists for four hours as a result of a fatal accident on Thanksgiving night.
No rerouting, no tweets, no safety checks, no fuel checks, no nothing. It was just desolation somewhere between Sandusky and Toledo on a perfect night of 45-degree weather.
The initial turnpike officials' answer was that was simply standard procedure.
I disagreed with the standard, and communicated such.
The turnpike folks have promised to make me part of future reviews of the incident. I'm told it could happen in January. That could be interesting.
But, in the meantime, they had the chance to communicate with state Rep. Bob Hagan.
Hagan took an interest in the incident after my column. Here's what fiery Bob wrote to them:
"This episode is truly alarming and I believe truly manageable if we are to believe that the highway patrol does what its moniker says: to patrol. What explanation has been given, what plan did you rely on, and what can you assure us that it will not happen again?"
He called the incident "inadequate handling" and desired a response.
The turnpike officials responded to him this week. What follows are lead points from the turnpike's one-page response, along with my immediate commentary (You can read their entire response on my column on vindy.com).
The Turnpike boss:
Attached copies of their incident response plan, just reviewed this summer.
My observation: The plan says a lot of bureaucratic things and drops a lot of acronyms. Never does it explain what to do when drivers — 10 or more than 2,000 people, in my case — are stuck for more than two hours.
Said the State Patrol will not authorize U-turning traffic, as the liability is too great.
My observation: When I discussed the incident with the local OSHP, he thought the Turnpike was doing just that and seemed unfazed by it. However, what he saw was actually the Turnpike team shutting down motorists who were u-turning on their own.
See a letter below where another state did just that in a similar incident.
But in Ohio, roadway officials will provide staff to trap drivers in, but not staff to let drivers out.
Improvisation of traffic does not serve the priority of safety.
My observation: If it is a plan and is practiced, then it is not improvisation. And how is such an evacuation any more improvisational than shutting three lanes of traffic down to one lane for road repairs, bridge painting and the host of other things that happen on highways? And as I wrote the first time: It's the same traffic pattern that happens in 100 major football stadiums every Saturday and Sunday.
Of all of their points, what left me most dismayed was the following:
Three-plus hours into our nothing existence, a guy two cars in front of me had a diabetic issue. I pointed it out in my column and used it as an example of how dramatic our situation had become.
Two ambulances proceeded down the shoulder past 1.5 miles of stranded cars to handle the guy.
Believe it or not, the turnpike took credit for the guy's rescue:
"We are pleased that the safety service professionals were able to respond. The traffic management procedures in place allowed crews to reach this individual quickly."
Never do they acknowledge the whole story.
Had they, it should have read something like this:
"We understand that letting the guy sit there for three and a half hours likely contributed to his condition. But it is not in our policy to tend to 2,000-plus people left stranded on our roadway until they themselves become a casualty."
Two readers questioned my speeding. But most responses joined my crusade.
Some examples:
"Todd,
A bright sunny morning in May in the late '90s I was on my way to the UPenn campus in West Philly for a business meeting. I crested the top of the Boss Pratt Memorial Bridge to find the rest of the bridge blocked with cars. A semi had flipped on its side at the bottom and was jammed across the bridge blocking both lanes.
After about an hour's delay, the Philly police started at the entrance to the bridge behind me and had one car after another execute a careful K-turn and go back the other way.
EZ-PZ.
Pat West Orange, N.J."
=====
"Todd,
A few years ago, I was trapped in a similar situation on I-76 between Akron and I-71. A severe snowstorm and traffic accidents brought the highway to a halt. As I sat there for hours, similar questions came to mind.
After about four hours, a few trucks cleared, allowing me to exit.
I did not exactly know where I was going, but I know I was moving. I eventually made it to Wadsworth on those "dark country roads" and checked into a hotel around 8 p.m.
A fellow I know was also in the same traffic jam. He did not have the opportunity to get off the highway. Finally at 4 a.m., traffic started to move for him.
Glenn"
======
"Todd,
I appreciate the piece on the turnpike closure. I write you regarding the information you were told that this accident had no precedent.
This isn't correct.
I sat for approximately three hours in either 2010 or 2011 in exactly the same situation near the U.S. 250 exit eastbound due to a semi being careless in a construction zone. Fortunately for me, it was a warm day and I was simply inconvenienced. But you raise great points about weather, those less healthy than I, and the sheer recalcitrance of officials on this.
I-80 is lined with State Trooper barracks. This inaction is just stubbornness and recalcitrance to not even try to solve a problem. It may not be a peace in the Middle East issue of import, but the sheer solvability and short-sightedness is also what makes it so.
Assess the damage, scramble the troopers and start the directed traffic reversal to the nearest preceding exit once secure from head-on collision.
We're not exactly launching rockets there.
But you do need to care enough to take action.
Jim, Poland"
=====
This is just bad institutional leadership, and I hope Hagan and others stay on the Turnpike and the Ohio Department of Transportation to ensure they have adequate plans for stuck drivers.
Todd Franko is editor of The Vindicator. He likes emails about stories and our newspaper. Email him at tfranko@vindy.com. He blogs, too, on vindy.com. Tweet him, too, at @tfranko.