Nguyen-Pieron engagement announced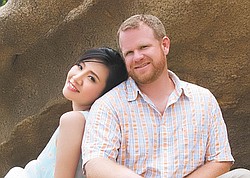 Photo
Ruby Nguyen and Matthew Pieron
LAKE MILTON
James and Patricia Pieron of Lake Milton are announcing the engagement of their son, Matthew Pieron of Lewiston, Idaho, and Ruby Nguyen of Ho Chi Minh City, Vietnam.
Her parents are Than and Tien Nguyen of Dalat, Vietnam.
The couple are planning a June 29 wedding at the bride's family home in Ho Chi Minh. A reception will follow at Saigon Riverside Hotel in Ho Chi Minh.
The bride-elect earned a master's degree and a doctorate in environmental science at Washington State University. She works as an environmental project officer for the German Society for International Cooperation in Ca Mau Province, Vietnam.
Her fiancé earned a bachelor's degree in biology from the University of Mount Union, a master's degree in biology at Eastern Kentucky University and a doctorate in wildlife management from Louisiana State University. He is a biologist for the Idaho Department of Fish and Game in Lewiston.