Principals sumo wrestle at recess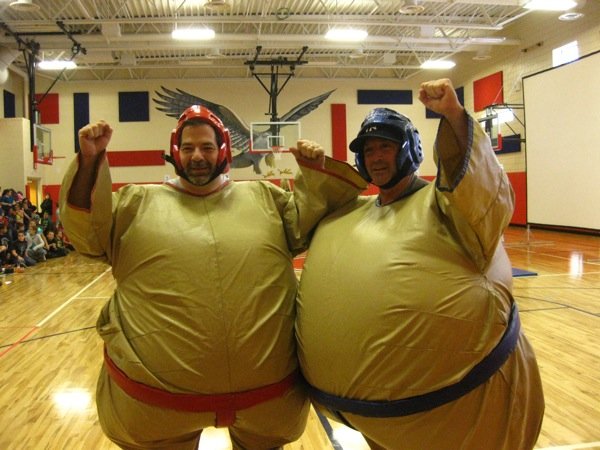 ---
By ABBY SLANKER
Austintown Intermediate School students had a wild recess Nov. 26. In an effort to encourage students to use a program called First In Math, an online tool to practice math, third-grade principal Tim Kelty and fifth-grade principal Jeff Swavel agreed to sumo wrestle if their students could reach the challenge of 200,000 practice points.
Thanks to the students meeting and exceeding their First in Math goal, they were treated to a sumo wrestling match between Kelty and Swavel.
The two principals faced off in the wrestling ring in the AIS gym during the four recesses.
Emceeing the event was Angel Owens, AIS fourth-grade principal. Before the main event, Owens handed out awards to the top four earners of First in Math practice points, with three students being recognized for earning 3,000 stickers and one student recognized for earning 4,000 stickers.
"We are here today because of First in Math. That is what has brought us all together. You all did an excellent job getting online and earning First in Math stickers," Owens told the students.
Owens then introduced the sumo wrestlers to the frenzied crowd.
"In this corner we have the 'Thrilla from Manila' Swavel. And in this corner we have 'Floats Like a Butterfly and Stings Like a Bee' Kelty," Owens announced, as Swavel and Kelty came out and fired up the crowd even more.
Owens also laid down some ground rules for the sumo wrestling principals.
"OK, gentlemen, here are the ground rules: show your Falcon Pride," Owens said.
To start the match, Owens asked for the students' help.
"On the count of three, everybody yell, 'Let's get ready to rumble,'" Owens said, and received a resounding response.
As the principals wrestled each other, the students cheered for their favorite and even did the wave.
"This is a wonderful academic achievement. The principals were more than happy to do it. We thought it would be a good way to start the Thanksgiving break. We wanted to get the students re-excited about First in Math and encourage them to continue doing their math problems online over the break," Owens said.