The $20 million expansion & renovation project is ahead of schedule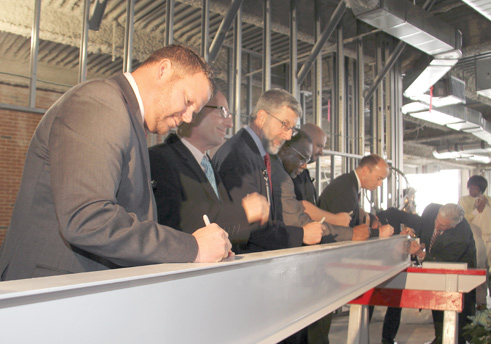 ---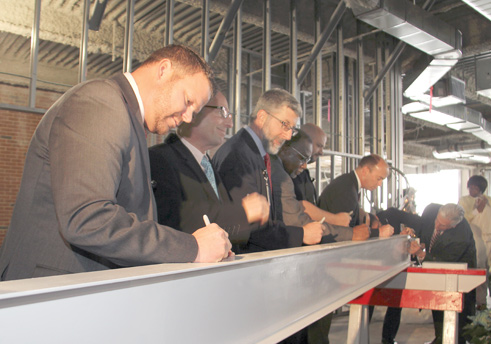 Photo
Kirk M. Ray, left, chief executive officer of ValleyCare Northside Medical Center, and others sign the topper steel beam during a topping-out ceremony Thursday at the hospital on Gypsy Lane in Youngstown.
Final Girder prepared for Medical Center's new Atrium
YOUNGSTOWN
A steel beam that is to be placed at the top of ValleyCare Northside Medical Center's new atrium in the spring was signed Thursday by hospital leaders, staff, the construction team and guests during a topping-out ceremony.
The final topping-out, a construction tradition to commemorate when a building's highest level is reached and the last beam is placed, is scheduled for April 2014.
Thursday's event, conducted at the site of Northside's new entrance/main lobby, signified the end of the first phase of construction on the $20 million project. Ground was broken last June, and the project is expected to be complete late in 2014.
"This topping-out ceremony is a way to thank our employees and those who have worked closely on the expansion and give them a chance to 'literally make their mark' by signing the beam," said Kirk M. Ray, chief executive officer of Northside.
ValleyCare Health System of Ohio, Northside's parent company, said in June it would invest $20 million in a project that will add 30,000 square feet to the hospital's facility and modernize more than 28,000 square feet of the existing hospital at 500 Gypsy Lane.
When complete, the project will have expanded patient-care resources at the hospital and be the largest investment made here in 15 years, Ray said.
"It is exciting to be standing in this building. One of the commitments was to make Northside an inviting, convenient and efficient place for patients to come, and it will be those when it is finished," said Sandy Kessler, chairman of the Northside board and executive director of the Jewish Community Center.
"I can't wait until patients walk through the door," he said.
Dr. Neal Tishman, D.O, director of Emergency Services, speaking on behalf of the emergency and medical staffs, thanked the nurses and the rest of the staff for being flexible and adaptable in providing care in a safe environment and during construction and "making this happen."
"I'm looking forward to the ribbon-cutting," he said.