Literacy award goes to TeenXTreme librarians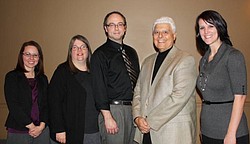 Photo
Neighbors | Submitted.Pictured, from left, are Public Library of Youngstown and Mahoning County Executive Director Heidi Daniel, Cindy Beach, John Waller, Ron Leone, and Mahoning Valley Council of the International Reading Association current president Michelle Best.
TeenXTreme librarians Cindy Beach and John Waller of the Public Library of Youngstown and Mahoning County were honored with the Dr. Susan Leone Celebrate Literacy Award by the Mahoning Valley Council of the International Reading Association (MVCIRA) Nov. 12. Young adult author Matt de la Pena was the guest speaker at the event.
The library's TeenXTreme program is dedicated to reaching teens in grades 7-12 and keeping alive their love of reading, using tools like creative programming to draw them into the library. Beach and Waller were honored for their commitment to promoting literacy.
The award is named in memory of past-president Dr. Susan Leone. Kate Gavalier, president-elect of the teachers association, noted that the award honors Leone for the positive impact she made on the lives of students and teachers throughout her career. The award was presented by Leone's husband, Ron, and Michelle Best, MVCIRA president, who expressed her gratitude for the difference a program like TeenXTreme makes in encouraging teens to read.
"It is especially gratifying to have the work of our dedicated teen librarians honored by an organization of the stature of MVCIRA," said Heidi M. Daniel, Executive Director, PLYMC. "We are proud of the work our librarians do with local educators who are dedicated to enriching the lives of their students through the world of books. Cindy and John are enthusiastic and totally engaged in making the Library a must-be place for teens."
"There are few resources in the community that specifically target the needs of our teen population," Josephine Nolfi, Manager of Youth Services and Programming at PLYMC, said. "Cindy and John recognized this need early and have worked tirelessly to reach teens by creating programs and activities that help fulfill their developmental needs. They've also helped teens discover books in a way that is meaningful during this time in their lives. The educational benefits of lifelong reading are unquestionable, but by working closely with our teens, Cindy and John have found to a way to help them, through good books, learn about themselves and the world around them in a safe, nurturing environment."
To learn more about TeenXTreme and the Public Library of Youngstown and Mahoning County, visit www.libraryvisit.org.