Austintown Middle School choir performs mall flash mob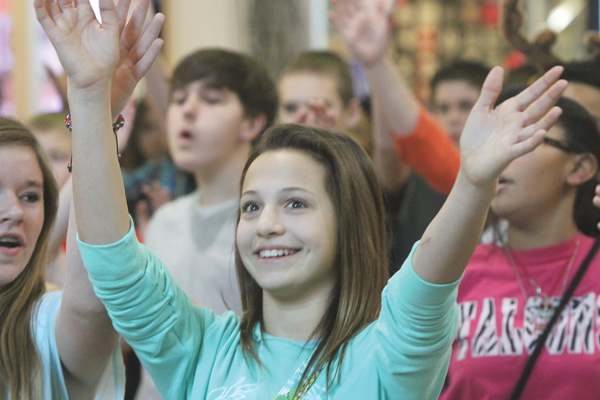 ---
Flash Mob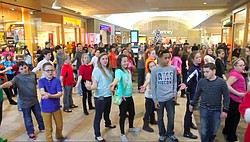 Video
Austintown Middle School students performed at the Southern Park Mall.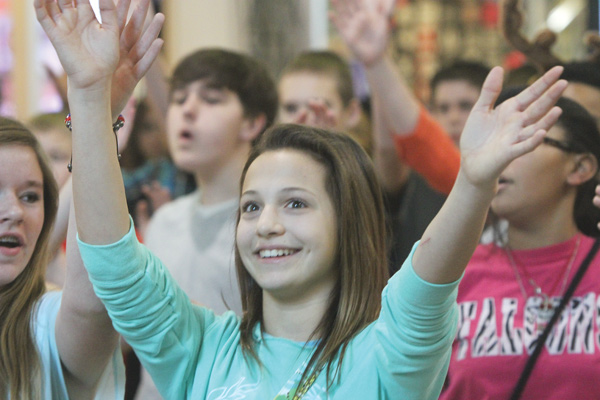 Photo
Austintown Middle School vocal music students perform at Southern Park Mall in Boardman. Among those singing and dancing Thursday was seventh-grader Kayla Kelty. The students performed four separate 15-minute holiday flash mobs to showcase their talent and spread the Christmas spirit.
By Kalea Hall
Boardman
Flips, twirls, snaps and waves were just a few of the moves the Austintown Middle School seventh-grade students showed off at Southern Park Mall on Thursday morning.
Under the direction of their teacher, Bill Klein, and with Santa Claus, 98 students took over part of the mall for their "Cool Yule" flash mob.
"I teach a lot of professionalism," Klein said. "When they had their concert they performed like professionals, so [I thought] it's time to take them out and show what they do."
This is just his second year at AMS teaching sixth-, seventh- and eighth-grade choir, and Klein has made an impression on the students that inspires them to perform at their best.
"Before I joined choir I couldn't even sing to music," said MacKenzie McCartney, a 12-year-old seventh-grader.
Her friend Michaela Schneider, 14, also a seventh-grader, encouraged Mac-Kenzie to join choir because of her musical talents. Both girls commented on what a great teacher they feel Klein is.
He inspires them "to go above and beyond," Michaela said.
Klein wanted to showcase his talented students at the mall and made a simple phone call to see if it was possible. No spectator knew what exactly was going on, unless a parent was in the crowd — such as MacKenzie's mother, Nicole.
"I love it," Nicole said. "We flew out here to see [the performance] because I didn't want to miss it."
Other shoppers and parents gathered in awe at the students during their four, 15-minute performances of "Cool Yule," a holiday musical collection of 13 different songs all set to crowd-pleasing choreography.
"They are putting smiles on people's faces," Nicole said.
The students sang and danced to traditional hits such as "Walking in a Winter Wonderland" and contemporary pieces like the "Jingle Bell Twist."
Soloist Matt Bohr played Ebenezer Scrooge and ignited a rage in Santa, who chased Matt around the crowd for bashing holiday cheer. The skit was all in good fun and entertained the crowd.
Santa's elves, reindeer and other characters were also a part of the performance.
Kaylee Sanvusky, 12, and her friend Zoie Ekis, 12, both showed off their gymnastic skills and were excited to perform at the mall.
"It's fun," Zoie said.
Klein said the amount of people in the choir class increased by a third from the past year just by word of mouth from the students encouraging other students to sign up for the optional class.
"They come to choir as kind of their release," Klein said. "I try to make my class so they are learning, but they don't know that they are learning."
The performance included 17 solos performed by 25 students. Klein likes to involve as many students as possible.
"They can just do it at the push of a button," Klein said. "You have to sell your performance."