Irish use second-half surge to beat Cards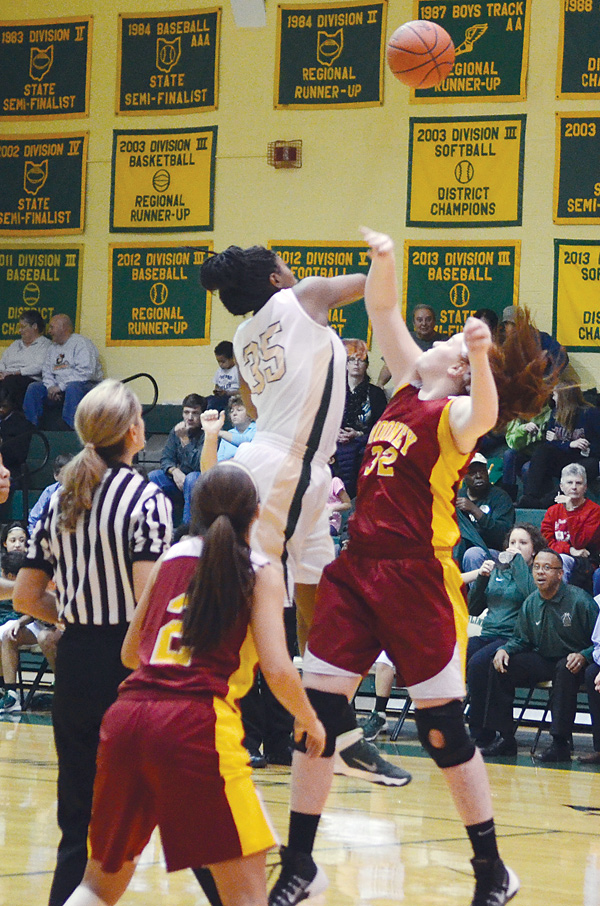 ---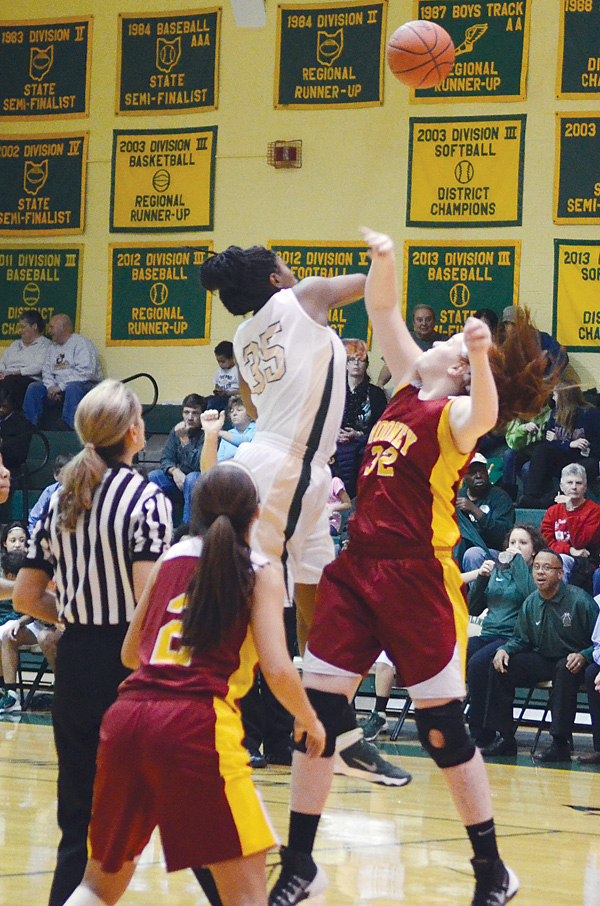 Photo
Ursuline's Tanaya Beacham swats the ball away from Cardina Mooney's Maggie Monahan at the start of Wednesday's game at Ursuline High School. Beacham scored 18 points for the Irish, who downed the Cardinals, 47-39.
Irish use second-half
surge to beat Cards
By Steve Wilaj
Youngstown
Inside the locker room at halftime, Ursuline High's Macey Gunther said the Fighting Irish talked about playing with more energy than they did in the first half.
From Cardinal Mooney coach Bill Ritter's point of view, Ursuline did exactly that.
In Wednesday night's 47-39 victory against the Cardinals, the Irish outscored Mooney, 21-14, in the second half after leading by just one at the break.
"I thought they came out very aggressive, with something to prove in the third quarter," Ritter said. "And we didn't stand up to the pressure as well as we should have."
Ursuline (3-4) used an 11-6 third quarter to separate itself from the Cardinals (4-2).
"We definitely came together as a team tonight and had a lot of chemistry," Gunther said. "We practiced really hard the day before and we worked really hard tonight."
Tanaya Beacham led the Irish with 18 points, although she received plenty of help from her teammates. Megan Ross scored seven, while Gunther, Simone Comer and Makayla Berry each had six.
"Other kids stepped up for us and we're gonna need that as we move along," Ursuline coach Sean Durkin said. "That was a good sign of progress today."
The Cardinals made it a point to deny Beacham the ball and were successful in the first half, as she scored just four points. However, the play of Beacham's supporting cast spoiled Mooney's plan.
"They shut her down and she stayed strong," Gunther said. "But we all worked together, kept the ball moving and were patient, so it just worked out really well."
Quite simply, Ritter said the other Irish shot the ball better than he expected.
"So give credit to them," he said. "In the first half we were sitting in zone, concentering on not letting [Beacham] get the ball. In the third quarter we went man-to-man and we didn't pressure everyone — not just Beacham — like we needed to."
In all, Ursuline shot 44 percent (17 of 39) from the field. Meanwhile, Mooney finished at just 38 percent (12 of 31), led by Jaclyn Yankle's 17 points and Jamie DiDomenico's 11.
Durkin wanted the Irish defense to wear down Mooney with full-court pressure.
"They handled it well and they were getting good shots off our pressure in the first half," he said. "So we backed off it, played them in the half court and did a great job. I thought that turned the game around for us."
Mooney cut the deficit to 44-39 late in the contest, but that's as close as it would get. In the end, it was just too much Beacham, who made 6 of 11 shots and also grabbed 12 rebounds.
"She started getting some looks in transition and she's devastating when she gets the ball in the open floor," Durkin said. "That's what got her going tonight."