'The Bone Lady' dazzles Niles Middle School students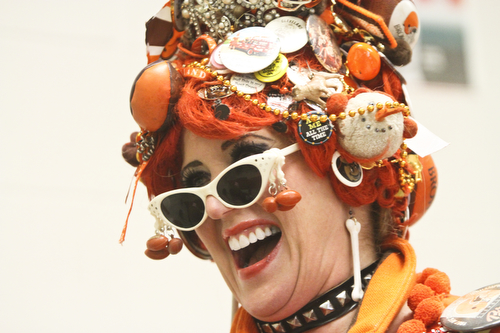 ---
Bone Lady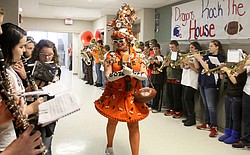 Gallery
Browns fan "Bone Lady" visited Niles Middle School today.
NILES
The hallways and classrooms of Niles Middle School became a movie set Wednesday morning, while eighth-grade students became supporting actors and actresses for an upcoming ESPN film.
On the heels of ESPN Films' 30 for 30 "Youngstown Boys," which aired last Saturday night, another documentary is in production from the film series focusing on Northeast Ohio.
Scheduled to air in December 2014, the 50th anniversary of the last Cleveland professional sports franchise to win a championship, is a documentary featuring Cleveland sports fans and their loyalty to franchises that have done nothing but disappoint them over that period.
Kris Belman, director of the LeBron James documentary "More Than A Game," was approached by ESPN with the concept. He, along with film producer Brian Joe, agreed to do it.
Thanks to David Lee Morgan, a Warren G. Harding High School graduate who knew Belman from his time in Akron as a sports journalist, the Mahoning Valley will have a part in the upcoming film.
That almost wasn't the case, however.
Niles eighth-grader Mindy McGann wrote a letter to the two filmmakers when she found out they were leaning toward not filming at the school. Mindy has cerebral palsy, a congenital disorder that can involve brain and nervous-system functions such as movement, learning, hearing, seeing, and thinking.
In short, her letter read: "Will you please do your movie here because everybody loves a kid in a wheelchair."
Morgan said he then called Joe, who told him they had reconsidered and decided they were coming.
"Really, we all have her to thank for this," Morgan said.
Over the years, Morgan built a relationship with Cleveland Browns super fan Debra Darnall, better known as "The Bone Lady" on Sundays, and knew she would make the perfect strong female character the filmmakers sought.
"She promotes empowerment to young girls and boys, and I thought this would be a great opportunity to showcase that," Morgan said. "What she talked about [Wednesday] reiterates everything that we always tell them."
Morgan now spends his time traveling to different schools around the area running a character education program. Over the past three years, he's developed a special bond with the children at Niles and knew they'd be the perfect audience.
"[Morgan] talks to our students about critical thinking, being good citizens, being productive, and what [Darnall] does goes right along with that," said Sam Reigle, principal at Niles Middle School. "Her message was more or less about be who you are. It was a real nice positive character message."
The film crew followed Darnall into the school as a gauntlet of Niles eighth-graders greeted her with the band playing in the background.
"In my 14 years of being 'The Bone Lady,' I don't think I've ever received a welcome like that," Darnall said to the students. "I think I had tears in my eyes because you almost made me cry."
Donned in her Sunday-best "Bone Lady" attire, Darnall spoke to two eighth-grade classes with the cameras rolling.
Even after the film crew left, she still had the attention of everyone around her. One student asked, "Do you wear that to the mall?"
Darnall laughed and replied, "Oh no, I have some normal clothes, but I could if I wanted to."
That answer was consistent with her message to the rest of the students.
"I go around and try to talk to all kinds of people," Darnall said. "My motto is be who you are and also let's let other people be who they are."
And the students will soon have that message on video to remember forever.