Marine reservists return in time for the holidays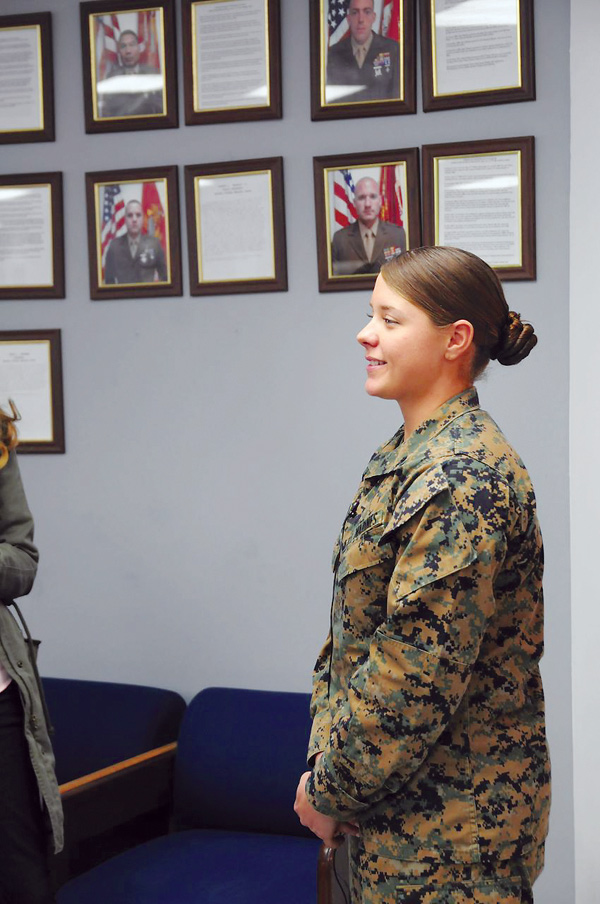 ---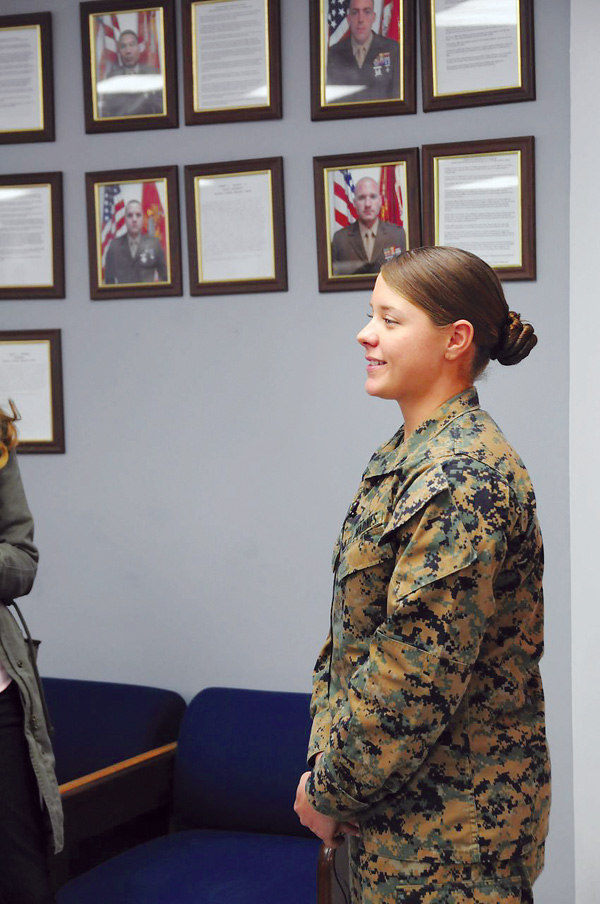 Photo
Marine Corps Cpl. Jessica Wolfe, a 2008 Boardman High School graduate, is one of 10 members of Detachment-3, Maintenance Company, Combat Logistics Battalion 453 at the Youngstown Air Reserve Station in Vienna who returned home this weekend from a seven-month deployment to Afghanistan.
VIENNA
"Christmas Eve will find me,
Where the lovelight gleams.
I'll be home for Christmas,
If only in my dreams."
The lyrics from the Christmas standard "I'll Be Home for Christmas" came true for 10 Marine Corps reservists stationed at the Youngstown Air Reserve Station.
Just in time for the holidays, the Marines were reunited with family and friends over the weekend at the Cleveland USO after a seven-month deployment in Helmand Province, Afghanistan.
After the reunion weekend, the Marines, members of Detachment-3, Maintenance Company, Combat Logistics Battalion 453 at Youngstown Air Reserve Station, are undergoing de-processing at their unit.
"We have to make sure they are medically and mentally ready to go back to their civilian communities and their families and jobs and colleges," said Chief Warrant Officer 4 Mike Hudson, Detachment-3 inspector/instructor.
The reservists were activated in March and deployed from Camp Lejeune, N.C., in May to augment Marines from the 2nd Maintenance Battalion.
Among the 10, all of whom volunteered for their first deployment, is Cpl. Jessica Wolfe, who grew up on Hitchcock Road in Boardman.
She was welcomed home at the Cleveland USO by her mother, Linda Tarica of Boardman; a sister, Stacey Wollet of Austintown; and her nephew, Joey Wollet, who ran to give her a hug. "He was real excited," Wolfe said.
"I'm looking forward to being together for the holidays and 'real food,'" said Wolfe, 23, a 2008 graduate of Boardman High School who is studying criminology and sociology at Cleveland State University.
Wolfe said she missed the comforts of home and "running water you can actually drink. A deployment teaches you to appreciate what you have at home."
While deployed, the Marines were attached to the Redeployment and Retrograde in Support of Reset and Reconstitution Operations Group, based out of Camp Leatherneck. The R4OG receives equipment from units, repairs it if needed and sends it back to the U.S.
The mission of the R4OG is a significant undertaking and one that gets very little press, said Hudson.
Wolfe said she was surprised at how well Marines from all over the country, reservists and active duty, worked together on the mission.
The days were long and "very hectic," said Sgt. James Gibson, 25, of Akron.
"I was really excited to go. I'm happy I did it, but I'm also glad I made it back and it's over," said L/Cpl. Derek Kuester of Madison.
Similarly, Cpl. Israel Rorie of Akron said he looked forward to the deployment, but is "glad to be home."
"Our Marines contributed significantly to the troop draw-down efforts. I'm proud of what they were able to accomplish, and impressed with all our reserve marines who have made the choice to serve their country while maintaining full-time civilian careers and/or pursuing higher education," Hudson said.