Mineral Ridge parish association conducts Christmas distribution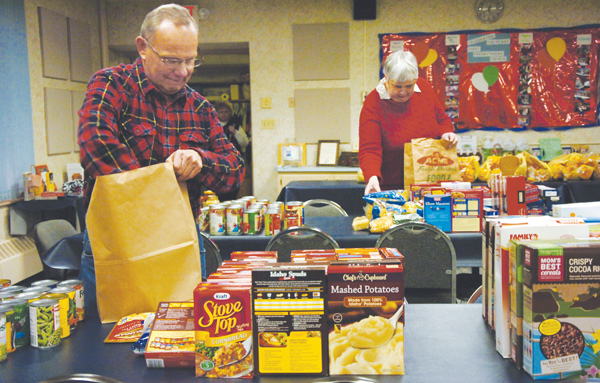 ---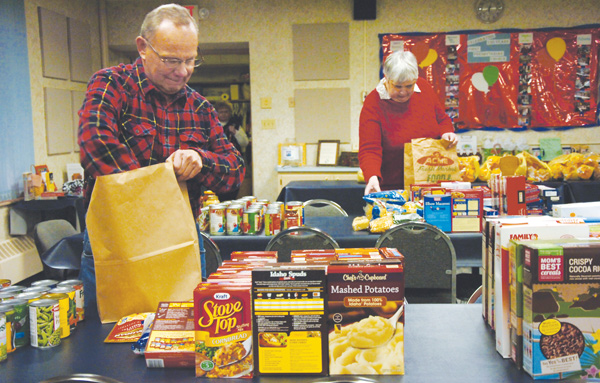 Photo
Dave Sylak, a member of St. Mary Church, and Carol Seifert, a member of Mineral Ridge Church of Christ, pack Christmas grocery bags Monday for distribution by Mineral Ridge Community Parish Association on Tuesday. The association helps those in need in Mineral Ridge and those who are members of association churches.
Parish association conducts Christmas distribution
By LINDA M. LINONIS
Mineral Ridge
English writer John Heywood is credited with the phrase "many hands make light work."
That certainly was true Monday night at First Presbyterian Church, 3654 Main St., where about 15 volunteers packed Christmas grocery bags and wrapped holiday gifts for children.
The holiday food giveaway is a project of Mineral Ridge Community Parish Association. Members of the association are Grace Church of the Nazarene in Austintown; New Hope United Methodist Church in Niles; Mineral Ridge Church of Christ, Ohltown United Methodist Church and St. Mary Church, all Mineral Ridge; and First Presbyterian Church, which provides storage and distribution site. The association also has food distributions at Thanksgiving and Easter and an emergency food pantry. The food project has been going on more than 20 years.
Distribution took place Tuesday at First Presbyterian for 32 families in need who live in Mineral Ridge or attend one of the churches in the association.
In its second year is First Presbyterian's mission-committee project of providing new toys for children in families who signed up for help. The toy distribution was held in conjunction with the food giveaway.
Pastor Jamie Milton of First Presbyterian said the food giveaway is "mostly staples" with a nod to Christmas with a cookie mix and ham. Families receive vouchers for the holiday ham and redeem them at The Butcher Block. Volunteers packed bags, following instructions on the number of items, as they moved from table to table laden with food products.
"Recipients are people who are out of work or have disabilities. There are a couple older couples who incomes don't cover expenses," the pastor said.
The directive to help people in need comes from the Gospel, the pastor said. Passages that refer to feeding, clothing, providing water and sheltering "the least of the brethren" are the instructions, he said.
"We reach out where we can," Pastor Jamie said.
Carol Seifert of Mineral Ridge Church of Christ echoed that sentiment.
She said the project "is an opportunity to help out. "If we all pitch in a little, it adds up ... and more people can be helped," she said.
Linda Robertson, branch manager at Farmers National Bank, said the bank has a bin for the food collection and also accepts monetary donations. "We're a part of the community and want to help out," she said as she packed a grocery bag.
Diane Bordonaro and Dave Sylak of St. Mary Church also were helping. Bordonaro was organizing the Christmas gifts and Sylak was packing groceries. "It's a nice way to help the community," he said.
A retired Mineral Ridge High School teacher, Dianne Seifert of Mineral Ridge Church of Christ said she now can "see it all come together." She said she is supportive of the effort "because I know there is a need."
As Darlene Smith of First Presbyterian's mission committee worked on packaging Christmas gifts, identified by number, she said last year was the first time the church attempted the toy project. This year, she continued, members picked names from a tree and bought new toys. Suggestions were provided by the families who registered. Forty-three children, from infants to high school, are gift recipients.