Defenders Tabachino, Bryarly Kopp Award winners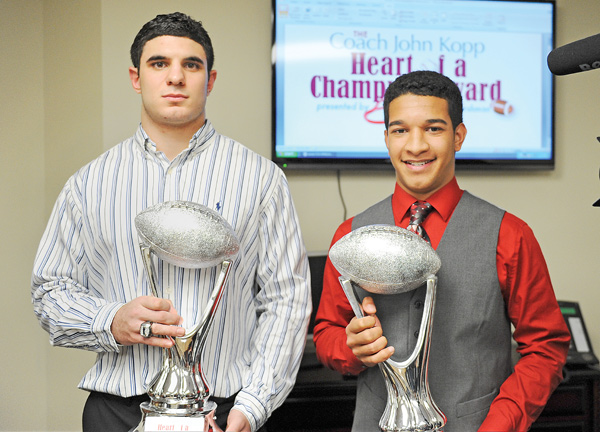 ---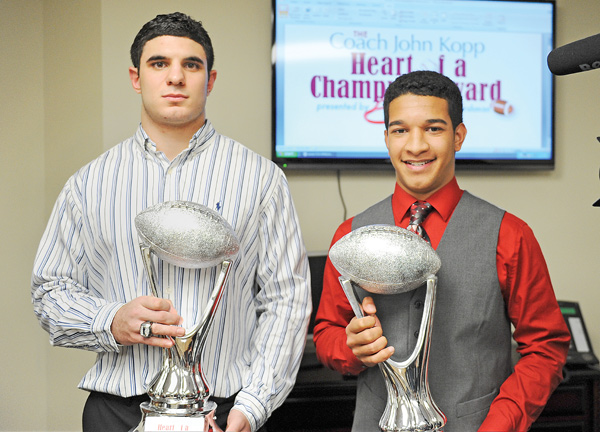 Photo
Cardinal Mooney's Joey Tabachino, left, and Howland's Trey Bryarly were awarded the Coach John Kopp Heart of a Champion Award on Tuesday. Tabachino was a senior linebacker for the Cardinals in 2013. Bryarly was a senior cornerback for the Tigers.
By Greg Gulas
CANFIELD
Two players from tradition-rich programs have been named initial recipients of the Betras, Harshman & Kopp "Coach John Kopp Heart of a Champion Award."
Joey Tabachino, a senior linebacker who helped Cardinal Mooney to a 10-5 overall mark and the Division IV state championship game, earned top honors in combined Divisions IV, V, VI and VII voting while senior cornerback Trey Bryarly of the Howland Tigers was voted tops among the Division I, II and III pool.
"On behalf of everyone at Betras, Kopp & Harshman, I would like to thank the hundreds of fans who cast votes during the season and to commend them for selecting two remarkable student-athletes to receive the first Heart of a Champion awards," Attorney David Betras said. "I'd also like to congratulate every player who received a vote. Along with Trey and Joey, fans expressed support for 77 players representing 35 schools in Mahoning, Trumbull, and Columbiana counties. That clearly shows how much the people in our area love high school football and the young men who play it."
Named after former Youngstown State player and longtime area high school football coach John Kopp, the award is given to the player in both divisions that represent their respective programs in a first-class manner, both on and off the field while giving their all like coach Kopp during his playing days and later a storied coaching career.
Kopp, who along with Betras presented the awards to this year's honorees, was pleased that two defensive players were selected.
"Defense has always been special to me, both as a player and as a coach. We've always been a blue-collar town that values hard work, grit and courage. That's what it takes to play great defense and that's what Trey and Joey bring to every play in every game," Kopp said. "I'm pleased that fans recognized, and then rewarded them for having the heart to succeed on the field and in life."
Tabachino, whose father, Bob, played for Kopp while at Chaney High School and later the University of Michigan, was one the Cardinals' top tacklers this past season as he posted 123 solo hits, 17 tackles for loss, forced three fumbles while registering five sacks in 15 outings..
"It's truly an honor to receive this award because so many other deserving players earned votes as well. I'd like to remain in the northeast Ohio area and play football at the highest level possible," Tabachino said. "It has been a blessing to be a part of the Cardinal Mooney family."
Cardinals coach P.J. Fecko called Tabachino not only an outstanding player, but an outstanding person as well.
"Joey is the consummate student-athlete," Fecko said. "He cares passionately about his team, school, family and name and is quite deserving of this award."
Former head coach and current Cardinal Mooney athletic director Don Bucci, and Howland athletic director Ron McCleary, both accepted a $2,500 check (a plaque will be forthcoming) from Betras. The checks were given to each school on behalf of the honorees.
"I got to know Joey earlier in the year and followed him each week. He got better each and every game which to me is the reason he received so many votes in the balloting," Bucci said. "A special thanks to the foundation for honoring two deserving players, as well as for their monetary donation to each school."
Bryarly posted 32 tackles and four interceptions this past season, one pick resulting in a touchdown for the Tigers.
"I am honored to receive this award, especially since it was voted on by the fans. Like Joey, I would also like to stay in the area and pursue my college career at the highest level possible," he said.
Tigers first-year coach, Dom Menendez, said Bryarly was a pleasure to coach.
"A captain this year, Trey was a two-year starter who was always around the ball. He's physical, always got the job done on the field and is a great student away from the game," Menendez said.
"Both recipients epitomize what student-athletes are all about," McCleary said.
Sam Ortz of Austintown Fitch finished second and Jawuan Jones of Youngstown East third in Divisions I, II, and III voting while Ryan Miller of South Range and Gabe Crowe of Springfield Local finished in a second-place tie for Divisions IV, V, VI, and VII honors.
Betras added that fans will be able to vote for the next HOC awards beginning Jan. 8 for boys and girls basketball by logging on to www.bhlaws.com.