Former Youngstown Mayor Jay Williams addressed a Senate committee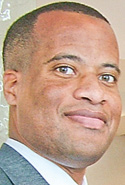 Photo
Washington, D.C.
YOUNGSTOWN
A vote by a Senate committee to recommend the full Senate confirm Jay Williams as the head of the Economic Development Administration will have to wait until early next month, but the hearing went well for the former Youngstown mayor.
Before Williams, a Democrat, delivered prepared remarks Tuesday to the Senate Committee on Environment and Public Works, U.S. Sen. James M. Inhofe of Oklahoma, a Republican member, said he was "immediately qualified for this job" because of his experience as mayor.
U.S. Sen. John Boozman of Arkansas, another Republican committee member, said Inhofe "makes a good point" about Williams.
Also, except for a couple of general yes or no questions asked as a group of Williams and three others seeking the committee's recommendations for other confirmations, there wasn't a single question directed at the former mayor.
U.S. Sen. Barbara Boxer, the committee's chairwoman and a Democrat from California, said written questions from committee members for the nominees could be submitted by Jan. 4, meaning a recommendation won't be coming until after that.
It is likely the committee will consider Williams and other nominees in an executive session sometime next month.
"I have a great feeling about each and every one of you," Boxer said as she closed the nearly two-hour meeting Tuesday.
The EDA leads the federal economic-development agenda by promoting innovation and collaboration and helping communities build the foundation for long-term growth.
Williams would head the EDA with his official title being U.S. Department of Commerce assistant secretary for economic development.
President Barack Obama nominated Williams for the job Sept. 10.
During his 41/2-minute prepared statement, Williams talked primarily about his 61/2 years as mayor of Youngstown. He resigned from that job Aug. 1, 2011, to join Obama's administration as executive director of the U.S. Department of Labor's Office of Recovery for Auto Communities and Workers, a position he still holds.
Williams said Youngstown was "once the poster child of economic decline and devastation, ravaged by the collapse of manufacturing and a lack of economic diversity. Yet I'm proud to tell you that this very same city is experiencing a renaissance beyond what many thought would be possible."
During the past five years, Williams said, "There's been well over $1 billion in private investment in the city of Youngstown resulting in the creation of hundreds of high-quality jobs."
Vallourec Star, which makes steel tubes for the gas and oil industry, recently invested about $1.1 billion in an expansion project in Youngstown.
Williams mentioned Vallourec, calling its expansion "one crowning example" of investing in Youngstown.
He also mentioned the Youngstown Business Incubator and Youngstown State University.
"Without question, the city of Youngstown still faces problems and challenges like many communities across the nation," he said. "However, the city is no longer being defined solely by its problems as it has for so many decades."
Among those problems not mentioned during the hearing is the city's staggering population decline of 61 percent over the past 60 years, including being the only community with at least 50,000 residents to lose more than 2 percent of its population between 2010 and 2012, according to U.S. Census data.
During his statements to the committee, Williams discussed the "critical role" the EDA plays "in facilitating the economic transformation of distressed communities. Now I'm always told that jobs aren't created by politicians or government agencies," he said. "However, the EDA and other government agencies do play an important role in helping to shape the economic environment."
The EDA has spent the past five years, Williams said, clearing "away the rubble of the greatest economic recession this country has seen since the Great Depression. While significant progress has been made, there is still a lot of work to be done."
In a show of bipartisanship, Ohio's two U.S. senators — Republican Rob Portman and Democrat Sherrod Brown — introduced Williams to the committee Tuesday.
"I think it's fair to say that the most important job we have right now is to bring the jobs back," Portman said. "This Commerce Department position is critical to that. Too many workers in my state of Ohio and around this country have been out of a job for too long, some for months, some for years. Jay understands that. He's not only seen it firsthand during his days as mayor of Youngstown, he has spent much of his life trying to improve economic conditions for all Americans."
Brown said that Williams' "work sparked Youngstown's renaissance, and that's led to the beginning of Ohio's comeback as an economic leader," and "where others might run from [economic] challenges, Jay runs towards them" to resolve them.
Brown added: "We need more officials in the Commerce Department [like Williams] who understand its decisions affect the lives of everyday Americans."
Boxer said Williams "should be proud to have two senators" praise him.