Published: Wed, December 18, 2013 @ 12:00 a.m.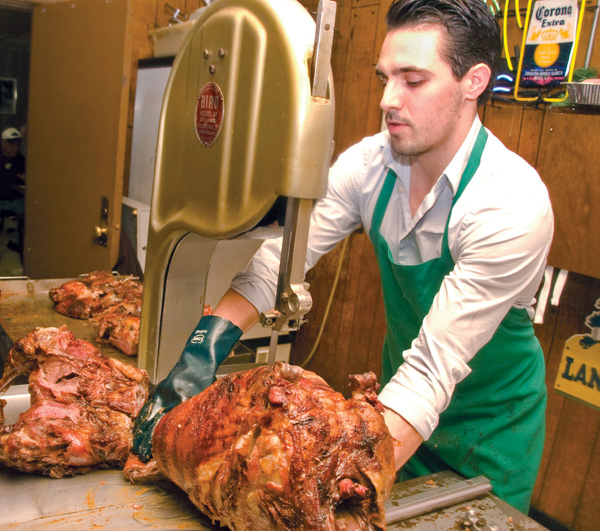 Photo
Johnny Dubic prepares slices of lamb at Dubic's Palm Cafe.
If You Go...
Where: Dubic's Palm Cafe
Address: 301 Steel St, Youngstown
Phone: 330-799-8889
By Mark Smesko & Michael Vallas
The best part of this gig really isn't the good free food. It's about getting to meet people who have a passion for what they do and hearing the history behind what brought them into the food business.
George Dubic emigrated from Croatia when he was 18. He brought with him a hard work ethic and skills as a tool-and-die maker. In 1983 at 30 years old, Dubic was given a layoff notice.
Although it was just a few days, it prompted Dubic to decide he needed to make an investment in himself. He decided to buy a bar on Steel Street on the city's West Side and put sweat equity into his own business.
He would work during the day at the tool-and-die job, then come home, clean up and head to the bar and work for the evening. Dubic said, "I had people tell me I was crazy to invest in a business here and that it would all come down to luck."
When he started, the Palm Cafe would roast lamb on Saturdays during the summer. But a few of his Greek friends said that he needed to cook lamb all year round. Dubic built a shed out back, and the year-round picnic was put into place. Each Saturday the Palm Cafe serves spit-roasted lamb, chicken, ham and pork.
The preparation starts on Friday evening, now under the hand of Dubic's son Johnny. The meat is prepped and seasoned simply with salt, pepper and garlic as it awaits the early morning fire. On Saturday, the fire is started around 7 a.m. Both fruit wood and hardwood are used to create the coals for the slow roasting. Around 8 a.m., the whole chickens, whole lamb and pig, and fresh hams are placed over the heat to cook slow and low all morning. About 800 pounds of meat is cooked every Saturday.
After about four hours, the chickens are first to come off the fire. In this day and age, rotisserie chicken can be found just about everywhere. Neither the supermarket nor the fast food versions can compare to that from Dubic's. Maybe cheaper, but not better.
Crispy skin, perfectly seasoned, mild smokiness, with tender meat that falls off the bone. We each had a half-chicken before the lamb appeared.
The lamb comes off after about 5 hours — about 1 p.m. for those keeping track. A nice touch is that you can sample meat from different parts of the animal, and each has a different flavor and texture. Dubic proclaims, "The customer gets to pick and see what they are going to eat."
The lamb is cooked perfectly and seasoned subtly so it doesn't take over the mild gaminess of the meat. We tried meat from the leg, which was soft and melted in your mouth. Compare this to the lamb ribs that had a slightly crispy skin and meat that had more of a chew to it. Both were spectacular.
The ham came shortly after the lamb. It is as good as any we've had. The right amount of salt and smoke combined with the quality of the meat made for a ham anyone would be proud to serve at their table. Dubic noted that they take orders for holiday hams — but you need to call as soon as possible to get your ham reserved.
On this visit, we were unable to try the pork because Mark was called out to treat a patient (once again saving a life five toes at a time). Dubic said that the animal is slow roasted for six hours to maintain a moist, juicy meat while at the same time crisping the skin to obtain a texture almost like a chip. Given how delicious everything else was that we've sampled, there is little doubt that it will take us long to make a return trip for the pork.
Dubic said that the simplicity with which they season, cook and serve the food is intentional. He buys fresh, good quality meats, cooks them in a way to showcase the natural flavor, and serves them with a few side sides on paper plates. Just like a family picnic. And when the food runs out, the picnic is over for the day.
Saturdays are the only days the Palm serves up this carnivore's delight. We suggest you get there early, get a beer, grab a blue ticket to reserve your place in line, and settle back to taste what is surely some of the best roasted meat around. And while you are at it, introduce yourself to Dubic and invite him to join you for a shot of Slivovitz.
And for those who doubted Dubic early on, isn't it funny how hard work and a commitment to doing a few things exceptionally well bring you luck? We should all be so lucky.
ABOUT Signature Dishes
Mike and Mark are on the lookout for the biggest, hottest and tastiest dishes in the Valley. Email them at BrothersInFood@gmail.com.